Iran Postpones Nuclear Talks With Russia
http://gdb.rferl.org/19529c2f-1272-4dfc-8bab-0c1ac48cee86_w203.jpg --> http://gdb.rferl.org/19529c2f-1272-4dfc-8bab-0c1ac48cee86_mw800_mh600.jpg Nuclear workers at Iran's Isfahan uranium-enrichment facility (epa) Iran delays talks on enriching its uranium in Russia amid reports that it has already begun the process of enriching nuclear fuel in Iran.
PRAGUE, 13 February 2006 (RFE/RL) -- Iran has postponed talks on a Russian offer to enrich Iran's uranium in Russia. The decision comes a day after Iran's president warned Tehran could withdraw from an international nuclear nonproliferation treaty.
Iranian government spokesman Gholam Hossein Elham said the negotiations in Moscow had not been cancelled, but said that the date of the talks, which had been scheduled for 16 February, "should be discussed."
Elham said the reason for the postponement was that the proposal needs to be adjusted to incorporate "new elements." He gave no details.
Elham added that Tehran will only accept Russia's plan as a supplement to enrichment activities inside Iran.
Russian Proposal Has EU, U.S. Support
Elham's announcement came after Iran's Foreign Ministry had repeatedly said that the talks in Moscow would be held on the planned date.
The news comes as AFP and Reuters are quoting diplomats in Vienna as saying that Iran has already begun the process of enriching uranium.
Russia's offer to enrich Iranian uranium is an attempt to allay Western fears that Iran could be seeking to produce nuclear weapons. The European Union and the United States have given Russia's proposal conditional and cautious support.
Moscow's proposal has been widely regarded as a realistic way of ending the diplomatic deadlock over Iran's controversial nuclear program.
Russian Deputy Foreign Minister Sergei Kislyak responded to the postponement by saying that he hoped the talks would go forward, adding that Moscow is still ready to receive Iranian officials on 16 February.
A Show Of Defiance
Tehran's stance in the dispute has toughened since 4 February, when the International Atomic Energy Agency (IAEA) voted to report Iran to the UN Security Council over its nuclear program.
Iran's government has been arguing that Western powers are using the IAEA as a political foil against Tehran's ambitions.
Speaking on 12 February, Iranian Foreign Ministry spokesman Hamid Reza Assefiurged the world not "to use the International Atomic Energy Agency as a political power to pressure certain countries, including Iran."
Assefi said Iran would "act based on our responsibilities within the framework of the NPT [Nuclear Nonproliferation Treaty] and the safeguards agreement" that were later added to the NPT.
A day earlier, on 11 February, Iranian President Mahmud Ahmadinejad suggested that Iran could pull out of the NPT altogether. "The Islamic Republic's policy has been to follow its nuclear efforts in the framework of the [International Atomic Energy] Agency and the NPT," Ahmadinejad said at a rally in Tehran celebrating the 27th anniversary of the Islamic Revolution. "However, if we find out they are going to take advantage of these regulations to destroy the rights of the Iranian people, you should know that the Iranian nation will reconsider its policy."
Following North Korea?
The NPT was established to promote cooperation in the peaceful use of nuclear energy, as well as to prevent the spread of nuclear arms. It also works towards scaling back existent nuclear arsenals.
The NPT has nearly 190 signatories, Iran included. Signatories agree not to seek nuclear weapons and in return can receive international help to develop nuclear power for peaceful purposes.
Withdrawing from the NPT would allow a country to develop nuclear energy, and possibly nuclear weapons, without inspections.
The first country to pull out of the NPT was North Korea in early 2003. Some states that have nuclear weapons, such as India and Pakistan, have never signed the treaty.
(compiled from agency reports)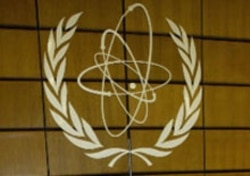 READ
On 4 February, the Board of Governors of the International Atomic Energy Agency approved in a 27-3 vote a resolution to report the matter of Iran's nuclear program to the United Nations Security Council. The key section of the resolution is Section 1, which states that the Board of Governors:
Underlines that outstanding questions can best be resolved and confidence built in the exclusively peaceful nature of Iran's program by Iran responding positively to the calls for confidence-building measures which the Board has made on Iran, and in this context deems it necessary for Iran to:
reestablish full and sustained suspension of all enrichment-related and processing activities, including research and development, to be verified by the Agency;
reconsider the construction of a research reactor moderated by heavy water;
ratify promptly and implement in full Additional Protocol;
pending ratification, continue to act in accordance with the provisions of the Additional Protocol with Iran signed on 18 December 2003;
implement the transparency measures, as requested by the Director General, which extend beyond the former requirements of the Safeguards Agreement and Additional Protocol, and include such access to individuals, documentation relating to procurement, dual use equipment, certain military-owned workshops and research and development as the Agency may request in support of its ongoing investigations.
COMPLETE TEXT: To read the final resolution, with late-hour changes highlighted, click here.

THE COMPLETE PICTURE: RFE/RL's complete coverage of controversy surrounding Iran's nuclear program.