Iran: Jewish Groups Want President Barred From Europe
http://gdb.rferl.org/62524271-DE96-405A-9B7D-477CFC86460C_w203.jpg --> http://gdb.rferl.org/62524271-DE96-405A-9B7D-477CFC86460C_mw800_mh600.jpg Iranian President Ahmadinejad (file photo) (Fars) A European Jewish group and an Israeli NGO are seeking to persuade Germany and other EU countries to declare Iran's controversial president a persona non grata.
PRAGUE, 1 March 2006 (RFE/RL) -- The president of the European Jewish Congress (EJC) has told RFE/RL that Iranian President Mahmud Ahmadinejad should not be allowed to set foot in Europe because of his denial of the Holocaust.
The EJC's call comes at a time when an the Israeli NGO is asking Germany to charge Ahmadinejad with Holocaust denial, and as the EJC is itself planning to file a complaint against Ahmadinejad to the International Criminal Court for incitement to genocide.
The actions of the two Jewish groups are aimed at undermining Ahmadinejad's international legitimacy.
A case accusing Ahmadinejad of incitement to genocide that will be filed "within weeks" with the International Criminal Court.
Ahmadinejad has called for Israel to be "wiped off the map" and said that the Holocaust of the Jews by Nazi Germany is "a myth." He has also said Israel should be relocated in Germany, Alaska, or any other remote location.
Civil Coalition, an Israeli civil rights nongovernmental organization active in Israel and elsewhere, believes that this places Ahmadinejad in breach of German law, which stipulates that denial of the Holocaust is punishable with up to five years in prison.
Ervin Eran Shahar, an Israeli lawyer representing the group, filed a 56-page criminal indictment against Ahmadinejad with German federal prosecutors in late February. The suit accuses Ahmadinejad of "inciting racial hatred [and] defiling the dead" as well as "denying the Holocaust."
Shahar says the case could result in international warrant for Ahmadinejad's arrest.
Civil Coalition chose to file the suit in Germany for two reason. "The first is, of course, because the Holocaust took place in Germany," Shahar says. "And the second is that the Iranian president decided to involve Germany in each of his statement: he called for Germany to evacuate a piece of its land in order to settle the Jews of Israel in Germany."
Shahar claims that the group enjoys "political support" in Germany for its initiative.
It could be some time before German prosecutors take the case forward as they will have to consider legal questions such as Ahmadinejad's possible immunity from prosecution.
If the federal prosecutor decides to close the file, Civil Coalition will appeal to Germany's Federal Constitutional Court, Shahar says.
Denying Entry To Europe For Holocaust Denial
Civil Coalition expects other Jewish organizations to throw their support behind the initiative in the coming weeks.
The president of the European Jewish Congress, Pierre Besnainou, has already indicated its backing. Speaking to RFE/RL, Besnainou says his organization "clearly and firmly" supports all steps taken against Ahmadinejad for expressing doubts about the Holocaust and for comments against the Jewish state.
The EJC, which represents the interests and concerns of Jewish communities in Europe, is itself currently working on two initiatives against Ahmadinejad.
One, Besnainou says, is a case accusing Ahmadinejad of incitement to genocide that will be filed "within weeks" with the International Criminal Court in The Hague.
The EJC is also promoting a resolution in the European parliament to declare Mahmud Ahmadinejad a persona non grata in all 25 EU countries.
"I can't imagine that these days any EU parliamentarian can accept that the Iranian president, given his remarks denying the Holocaust, could one day come to Europe -- to this land that witnessed this, the tragedy of the 20th century -- and continue to make similar remarks," Besnainou says.
He says he is "very confident" that the resolution will be passed. "All the contacts we've already had with different groups of parliamentarians make us believe that this resolution will be very rapidly passed in the EU parliament."
European leaders have in the past condemned Ahmadinejad for questioning the Holocaust and calling for Israel's eradication.
The View From Tehran
Ahmadinejad has not yet reacted to the initiatives.
However, the semi-official Fars news agency reported on 26 February that a member of the Iranian parliament had called on Foreign Ministry to file a lawsuit against Germany if the German government were to take the "arrogant act" of bringing a case against Ahmadinejad.
Other voices in Iranian have struck a different note from the president. On 28 February, Iran's former president, Mohammad Khatami, termed the Holocaust a historical fact, though he also criticized Israel's 'misuse' of the event.
And on 1 March the pro-reform daily "Sharq" wrote in an editorial that Iran has never had a "Jewish problem" and that Iran has always lived peacefully with its Jewish community. The daily also praises comments by an unidentified Palestinian politician who said that "before thinking about the eradication of Israel, we should pursue a Palestinian state."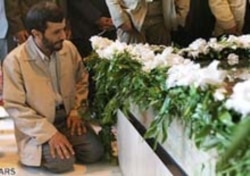 President Ahmadinejad visiting the tomb of Ayatollah Ruhollah Khomeini in October (Fars)


READ
Each year in Iran, the last Friday of Ramadan is celebrated as Qods (Jerusalem) Day, officially a day for expressing solidarity with the Palestinian people.
"I have been notifying the Muslims of the danger posed by the usurper Israel,"
Ayatollah Ruhollah Khomeini,
father of Iran's Islamic Revolution, said in an August 1979 announcement. "I ask all the Muslims of the world and the Muslim governments to join together to sever the hand of this usurper and its supporters...and, through a ceremony demonstrating the solidarity of Muslims worldwide, announce their support for the legitimate rights of the Muslim people..."
(more)
SEE ALSO:
Iranian President's Latest Comments About Israel Spark Further Condemnation
Iranian President Says Light Surrounded Him During UN Speech
INTERVIEW: On December 22, 2005, RFE/RL's Radio Farda spoke with FRED ZEIDMAN, director of the U.S. Holocaust Memorial Museum in Washington, D.C. Zeidman commented on Iranian President Mahmud Ahmadinejad's anti-Israeli comments.
LISTEN
Hear the complete interview (about nine minutes):
Real Audio Windows Media
ARCHIVE: For an archive of RFE/RL's coverage of Iran, click here.