Georgia: Tsalka District Again Wracked By Ethnic Violence
By Koba Liklikadze http://gdb.rferl.org/d1bad3e6-3c29-4abf-b777-92a158b2f460_w203.jpg --> http://gdb.rferl.org/d1bad3e6-3c29-4abf-b777-92a158b2f460_mw800_mh600.jpg (RFE/RL) Gevork Gevorkyan, an ethnic Armenian, was stabbed to death by a Georgian in a fight outside a local restaurant. The murder in the village of Kushi in the Tsalka district in southern Georgia has provoked a wave of clashes between Georgians and Armenians. Most of the clashes have been in Tsalka and the town of Akhalkalaki (outside of Tsalka), which are predominantly inhabited by Armenians. On March 14, the day of Gevorkyan's funeral, the Georgian government sent in special troops.
TSALKA, March 17, 2006 (RFE/RL) -- There were angry villagers at the funeral of 23-year-old Gevork Gevorkyan in Kushi. A day of mourning quickly turned into a protest rally.
The neighbors of the murdered man were enraged -- angry at the rising crime rate, the inaction of the police, and the absence of government interest in their fate. Aram Gevorkyan could not contain his fury.
"See what happens!" he told RFE/RL. "Thirteen murders in the Tsalka district and nobody knows what's going on. Where is the justice? Nobody gives a damn. They think we're backward here in the Tsalka district, but we're not. We all have been created by God to live and not to fight with each other."
A Long History Of Ethnic Clashes
The first time the government sent troops to Tsalka was in 1999 after a quarrel between a Georgian and an ethnic Greek turned into armed clashes that left two people dead. Last year there was more violence -- again between Georgians and Greeks -- and more protests.
This time, it has taken special troops to bring the situation under control. Now, armed police officers are patrolling the streets 24 hours a day.
Vartan Vartapetyan, the leader of the Armenian political party Powerful Fatherland, says Armenians living in Tsalka are loyal citizens of Georgia. He arrived in Kushi from the Armenian capital, Yerevan, on March 14 to attend the funeral. He says the main problems are poverty and the inefficiency of local government.
Poverty Breeds Violence
"The essential conditions for a normal life don't exist here," Vartapetyan said. "Why do these sort of questions never get raised in France or America, where millions of Armenians also live? Because the day-to-day problems of life are settled there. But here, in the 21st century, there are no normal conditions of life for Georgian citizens."
In Soviet times, Tsalka was considered one of the most productive agricultural areas of Georgia. But economic collapse has led to massive unemployment and neglect -- the poor quality of roads means it now takes three hours to cover the 110 kilometers to the capital, Tbilisi. The poor electricity supply and the absence of gas make it almost impossible to endure winter in Tsalka's mountain villages. Villagers say they have to sell everything just to support themselves.
Most of the Greeks have left the district -- forced out by economic hardship and crime. They've been replaced by Georgians from Adjara and Svaneti -- mountain regions badly affected by natural disasters over the past two decades. But because employment is hard to find, supporting the new families is a big problem.
Viola Ushkhvani, who is a small trader from Tsalka, says the fights often happen because of unemployment.
"These minor scuffles happen all the time -- not between Georgians and Armenians but between drunk young men," Ushkhvani said. "It's hooliganism. It's because they just have nothing to do. It's got nothing to do with politics."
Pipeline Brings Temporary Relief
The construction of the Baku-Tbilisi-Ceyhan (BTC) oil pipeline has brought some relief to the region. One section of the pipeline runs through the Tetri Tskaro and Tsalka districts, and it employs some 4,000 local Armenians, Georgians, and Greeks. But when the construction finishes in August, the workers will be laid off.
But the people of Tsalka continue to wait for the government to attract investment into the region, end crime, and enable everyone to live a normal life.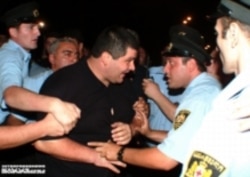 Georgia's police have been accused of using excessive force (official site)


READ
'CULTURE OF IMPUNITY':
Georgian President Mikheil Saakashvili's government has had
a checkered human rights record
since it came to power after the 2003 Rose Revolution. The international community has welcomed the steps taken by the new Georgian leaders to refine the legal mechanisms needed to combat rights abuses. But it also blames the government for failing to ensure those mechanisms are properly implemented
....(more)
RELATED ARTICLES
Rights Group Sees Rise In Police Brutality In Georgia
Citizens See No Improvement In Society, Economy After Revolutions
Helsinki Report Finds Human Rights Problems Plague Entire Region