Eurasia: Shanghai Cooperation Organization Marks 10 Years
http://gdb.rferl.org/AAE3F3FF-23D3-4E41-A404-F62CFA3DC959_w203.jpg --> http://gdb.rferl.org/AAE3F3FF-23D3-4E41-A404-F62CFA3DC959_mw800_mh600.jpg Shanghai Cooperation Organization meeting in July 2005 (epa) Defense ministers gathered in Beijing announced today that the members of the regional Shanghai Cooperation Organization (SCO) will hold joint military exercises in Tajikistan later this year. They're also likely to convene for counterterrorism exercises in Russia in 2007. The plans highlight the transformation of the former "Shanghai Five" from its early days focused on confidence building along China's border with former Soviet states.
PRAGUE, April 26, 2006 (RFE/RL) -- Today marks 10 years since the presidents of China, Russia, Kazakhstan, Kyrgyzstan, and Tajikistan met in Shanghai to commit to confidence-building measures along the CIS border. The resulting agreement called for troop and other military reductions, including warplanes, to positions further from the common border. The evolution of the Shanghai group -- which comprises Russia, China, and all the Central Asian states but Turkmenistan -- has reflected the changing dynamics of relations within an increasingly significant region since those modest beginnings.
Moscow at the time was facing major budget problems and could ill afford to maintain massive Russian forces along the country's long border with China. The Central Asian states were in an even worse financial position, no longer part of the Soviet Union but having to pay for their own border protection. China was focused on Taiwan, and welcomed an opportunity to shift forces from the CIS border to the east.
New Impetus
Their consensus soon led them to explore other avenues of cooperation. Late in the 1990s, the group was discussing new fields of economic collaboration. Beijing was perhaps the first to perceive great potential in the organization.
As the SCO turns 10 years old today, there is no shortage of interest from other countries in the region to join.
"You had the Chinese very worried about the Uyghur separatism, Islamism, and ethnic secessionism," says Alex Vatanka of the Jane's group. "It was only a natural step for them to look beyond China's borders, look to the other side, [to] look to countries like Kazakhstan, Kyrgyzstan and find in those countries partners they could work with. And that's exactly what they did. And that's the foundation of the Shanghai Organizations essentially."
China's troubled relations with the Uyghur Muslim minority in some ways paralleled Russia's troubles in Chechnya and Central Asian states' own relations with restive Islamic communities.
Changing Tacks
John MacLeod is with the London-based Institute for War and Peace Reporting. He notes that the focus of the SCO thus changed -- to security and countering terrorism, separatism, and extremism:
"There's a significant shift in 2001, when Uzbekistan joined up making it the Shanghai Six, or the Cooperation Organization in its present form," MacLeod said.
The Islamic Movement of Uzbekistan (IMU) appeared in the summer of 1999 and returned in 2000 with the express intent of overthrowing the Uzbek government and to replace it with an Islamic caliphate. Uzbekistan's membership in the SCO eased Tashkent's fears about the IMU and emphasized the SCO's new focus on security issues.
Avoiding Strangers?
Then came September 11, 2001, and suddenly U.S.-led coalition forces were based in Kyrgyzstan, Tajikistan, and Uzbekistan. It appeared the SCO was losing its significance in Central Asia.
But on May 13, 2005, authorities imposed a bloody crackdown in the eastern Uzbek city of Andijon, with government forces opening fire on a large crowd of protesters. Western reaction was quick and critical. The United States and European Union called for an international investigation into the incident.
The Uzbek government rejected those calls, and sought shelter within the SCO. At the SCO summit in July 2005, SCO leaders called on the United States to set a timetable for its withdrawal from military bases in Central Asia.
The IWRP's MacLeod said this was another important moment for the SCO: "I think that it was interesting that this organization began to behave in a cohesive and political kind of way after Andijon, lining up with Uzbekistan...in the face of Western criticism, when only the month before the Americans had been the Uzbeks' No.1 buddy."
U.S. forces left the Uzbek base at Khanabad before the end of last year. Western media blamed that departure in part on the SCO's ultimatum, and warned of a new force emerging in Eurasia.
Outside Interest
As the SCO turns 10 years old today, there is no shortage of interest from other countries in the region to join. Mongolia became the first observer state in the SCO in 2004. Iran, Pakistan, and India have since gained similar status. Afghanistan has participated, too. Such interest has raised eyebrows in the West, where some worry about such an alliance.
Vatanka said that for observer states, the SCO might offer shelter similar to that it offered Uzbekistan.
"It was used, for instance, as a forum for [Uzbek President] Islam Karimov to ask the Americans to depart from Khanabad [air base]," Vatanka said. "They used that forum to stand up to the U.S. and I think that is the type of facility that countries like Iran, India, Pakistan, and Mongolia perhaps, would like to use Shanghai [Cooperation Organization] for, as a forum where they can come in and stand up to the U.S. in particular."
But Vatanka downplayed speculation that the group might eventually present a serious counterweight to NATO.
"I don't think that it will become a NATO-type of alliance. I just think that the disagreements between the Russians and the Chinese are just too many to allow that kind of alliance to come about," Vatanka said. "But at least in limited cases, in certain circumstances, you could see the Shanghai Cooperation Organization becoming a force to be reckoned with."
The next SCO summit is scheduled for June, when the heads of state of the group's six members gather again in Shanghai.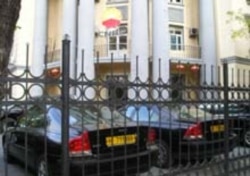 The Almaty,Kazakhstan, office of China's National Petroleum Corporation (RFE/RL)
BEIJING ON THE RISE:
The September 11, 2001, terrorist attacks against the United States prompted Washington to topple the Taliban regime in Afghanistan. At the time, many predicted the United States would gain a new foothold in Central Asia: new U.S. military bases appeared in Kyrgyzstan and Uzbekistan, U.S. foreign aid increased, and much U.S. attention was lavished on the region. Russia and China looked on warily. But the pendulum may be swinging back in Moscow's and Beijing's favor. China, especially, has expended great effort at winning friends in Central Asia and is becoming a force to be reckoned with
....(more)
RELATED ARTICLES
Turkmenistan-China Pipeline Project Has Far-Reaching Implications
Central Asia Looks To Fuel Asia's Economic Boom
The Geopolitical Game In Central Asia
ARCHIVE
To view an archive of RFE/RL's coverage of China, click here.

SUBSCRIBE
For weekly news and analysis on all five Central Asian countries by e-mail, subscribe to "RFE/RL Central Asia Report."