Russia: Opposition, NGOs Gather Ahead Of G8 Summit
http://gdb.rferl.org/933EC359-2860-4D0F-BED9-C363D43B9537_w203.jpg --> http://gdb.rferl.org/933EC359-2860-4D0F-BED9-C363D43B9537_mw800_mh600.jpg Sergei Kovalov (left) and Lyudmila Alekseyeva oversee 'Other Russia' (epa) Russian opposition figures and rights activists gathered on July 11 in Moscow for a two-day conference, called Other Russia, focusing on ways to combat the Kremlin's tightening grip on politics, civil society, and the economy. But the gathering also underscores the rifts dividing the opposition.
MOSCOW, July 11, 2006 (RFE/RL) -- The conference provided a rare opportunity for the Russian opposition to speak out jointly against the regime of President Vladimir Putin.
Lyudmila Alekseyeva, a veteran rights activist who heads the Moscow Helsinki Group, was one of the first delegates to take the floor.
"We are meeting at the Other Russia conference to show the scale of civil resistance to the bureaucracy's trampling of our constitutional rights and freedoms and to activate our potential," Alekseyeva said. "This is not a declaration of war of society against the authorities. This is a call for peace between them -- but on honorable conditions for civil society, on conditions of equal partnership."
Russia In Check
Former world chess champion Garry Kasparov, a fierce opponent of the Kremlin, said the conference was titled Other Russia to show the world that the Russia Putin will display this week at the G8 summit in St. Petersburg differs from what he called "the real Russia."
Participants took turns accusing Russian authorities of cracking down on the media, opposition parties, and private business, and of throwing dissidents in jail. Andrei Iliaronov, a former economic adviser to the Kremlin, said that Russian presidents' habit of picking their own successors goes against democratic norms.
Organizers claimed that some 20 delegates had been harassed, arrested or beaten as they traveled to the conference.
"Over the past few days, dozens of Russian citizens traveling to our conference were subjected to, at best, pressure, summons by special forces, threats, and in some cases to much more brutal treatment," said Aleksandr Osovtsov, an activist for Open Russia, the foundation created by jailed oil tycoon Mikhail Khodorkovsky.
Several Western diplomats, including British Ambassador Anthony Brenton, also attended the conference in defiance of a Kremlin warning.
In a recent interview with the "Financial Times Deutschland," Igor Shuvalov, Russia's envoy to the G8, said the Kremlin would view the participation of foreign officials in the Other Russia conference as "an unfriendly gesture."
Unlikely Participants
Some opposition movements, however, are boycotting the conference over the participation of nationalist and radical groups, including the National Bolsheviks.
Kasparov reacted angrily to the decision of the leading liberal parties, Yabloko and the Union of Rightist Forces, to snub the conference.
Those who didn't come are not in the opposition, he said.
Valeria Novodvorskaya, a prominent politician and rights activist, also steered clear of the conference.
In an interview with RFE/RL's Russian Service, she branded the conference the "downfall" of Russian democracy.
"There are four organizations taking part in this congress that do not fit into the Russian Constitution, the Declaration of Human Rights, or the pact of civil and political rights," Novodvorskaya said. "These are not European leftists; these are Stalinists and neo-Nazis. This represents the downfall of the Russian democratic movement, because the G8 will draw the following conclusion: 'We are right to stand behind Putin, let him control this bedlam.'"
Pro-Kremlin youth groups also staged pickets outside the hotel where the conference is being held.
Dozens of demonstrators stood clad in American Indian-style feather headdresses. One of them told RFE/RL's Russian Service that this outfit signaled their belief that the conference is bankrolled by foreign enemies of Russia, including the United States.
MORE: To read coverage of this topic from RFE/RL's Russian Service in Russian, click here.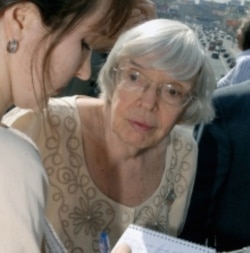 Lyudmila Alekseyeva (TASS)

THE END OF THE 'GOLDEN AGE' Moscow Helsinki Group founder and Chairwoman LYUDMILA ALEKSEYEVA spoke at an RFE/RL briefing in Washington, D.C., on October 26, discussing the difficulties facing Russian nongovernmental organizations. Tanya Lokshina, chairwoman of the DEMOS Center for Information and Research, also participated in the briefing.
According to Alekseyeva, who is a regular contributor to RFE/RL's Russian Service, the time in office of former Russian President Boris Yeltsin is considered a "golden age" for Russian NGOs -- even though this is "not [because] Yeltsin was a strong democrat," but rather because "society was left to its own devices and we managed to build civil society" while the "power elites" struggled among themselves and ignored the lower strata. Alekseyeva said Russia has emerged from its economic crises under President Vladimir Putin, but there is "no division of power in Russia under the model of executive vertical controls," where regional governors, a "puppet parliament," and a judiciary "stripped" of independence are under the Kremlin's control. Nonetheless, according to Alekseyeva, Russia is "not returning to Soviet times," because "today the attacks are selective" and "there is now a civil society" to resist the pressure.
Alekseyeva expressed concern that "Western democratic states don't react to attacks on human rights." She said that "in Soviet times, we few dissidents felt enormous Western support." She called that support "our shield," which she said is now missing. The supporters of civil society feel "now abandoned by Western allies," Alekseyeva said.
LISTEN
Listen to the complete panel discussion (about 90 minutes):

Real Audio
Windows Media
More stories featuring Alekseyeva and the Moscow Helsinki Group:
Human Rights Groups Spurn Chechen Poll
What Is The Biggest Threat To Stability In Kabardino-Balkaria?
Geologist Takes Law Abolishing Election Of Regional Leaders To Court