Middle East: Lebanese Troops Move In As Israelis Withdraw
http://gdb.rferl.org/EF768558-B921-43F1-A896-87EC839D8993_w203.jpg --> http://gdb.rferl.org/EF768558-B921-43F1-A896-87EC839D8993_mw800_mh600.jpg Lebanese army troops cross the Litani River in the city of Tyre on August 17 (epa) PRAGUE, August 17, 2006 (RFE/RL) -- Lebanese forces backed by tanks and armored vehicles today began deploying in the south of the country under the UN cease-fire plan that ended fighting between Israel and Hizballah.
The troops, carrying Lebanese flags, crossed the strategic Litani River at dawn, in a move which marks the extension of the Lebanese government's sovereignty over the whole country for the first time since 1969.
The Lebanese government "must move its forces into south Lebanon and it must create there...a Hizballah-free zone."
The deployment, approved on August 16 by the Lebanese cabinet, is seen as a major step in meeting demands that Hizballah militants be removed from Israel's northern frontier. However, it falls short of UN and Israeli insistence on the Shi'ite militia's disarmament.
'Hizballah-Free Zone'
Israeli Foreign Ministry spokesman Mark Regev said Israel is keeping its commitments in the UN cease-fire resolution, but warned that it expects Lebanon to do the same.
The Lebanese government "must move its forces into south Lebanon and it must create there, in south Lebanon, a Hizballah-free zone," Regev said. "That's our expectation, that's in the resolution."
The Israeli military began handing over positions to the United Nations early today. The military said that two-thirds of the areas Israel holds have been transferred already.
Meanwhile, residents welcomed Lebanese troops in Marjayoun, a key town near the border that was briefly occupied by Israeli forces. The town is in a largely Christian area where Hizballah's Shi'ite Muslim fighters have little support.
Under the UN cease-fire agreement in effect since August 14, Israel agreed to transfer control of its positions in southern Lebanon to the currently 2,000-strong UN force known as UNIFIL, which would then turn them over to the Lebanese army.
The UN plan calls for the Lebanese army deployment to eventually number 15,000 soldiers and for it to be matched by an equally strong, expanded UNIFIL force. Together, these forces are to patrol the region between the Israeli border and the Litani River, which is situated some 30 kilometers from the frontier.
Clear Mandate Needed
France, meanwhile, has said it is willing to lead the expanded UN force in Lebanon. Defense Minister Michele Alliot-Marie told TV France2 that she hoped a large number of European and Muslim countries would contribute troops.
"What is also necessary is that a maximum number of European countries should participate in the enlarged UNIFIL," she said. "There also should be a maximum number of Muslim countries. "
Alliot-Marie also warned that the UN mission's success depends on it having a clear mandate. "When you send a force without its mission being clearly defined, without its resources being adapted and large enough, that can lead to a catastrophe, including for the soldiers we send," she said
The UN hopes that 3,500 international troops can reinforce the UN contingent already on the ground within 10 to 15 days. General Alain Pellegrini, the UNIFIL commander, said the first elements could arrive "at the start of next week."
Pellegrini added that "the old UNIFIL is dead and the new UNIFIL will be stronger, enhanced, with more people, and, above all, with new rules of engagement."
Italy, which has said it could quickly send as many as 3,000 soldiers to southern Lebanon, also requested a clear mandate for the UN force today. However, there have been no firm commitments yet from any country.
The UN has said it is sending two envoys to Lebanon and Israel today to assess how the new cease-fire between Israel and Hizballah is being implemented.
"The Secretary-General [Kofi Annan] has decided to dispatch to Lebanon and Israel a high-level mission to talk to the parties involved, to secure the full implementation of [UN cease-fire] Resolution 1701," Annan's spokesman Stephane Dujarric said. "The mission will be comprised of Vijay Nambiar, the secretary-general's special adviser, and Terje Roed-Larsen [the top UN envoy on Syria-Lebanon issues]."
So far, Hizballah's reaction to the Lebanese troops' deployment has been calm. A Hizballah official today said the deployment does not pose a problem as long as no attempt is made to disarm the Shi'ite militant group.
Life Returns To Lebanon
Meanwhile, life appears to return timidly to normal in the regions affected by the monthlong conflict, with cars and trucks carrying thousands of displaced people flocking south on the fourth day of the cease-fire.
Furthermore, a Jordanian passenger airplane landed in Beirut today coming from Amman, marking the first commercial flight to Rafik Hariri International Airport since July 13, when Israel bombed the airport.
The air traffic resumed as the European Union urged Israel today to lift the blockade imposed on Lebanon at the start of its monthlong offensive.
During a meeting in Tel Aviv with Defense Minister Amir Peretz, the EU Humanitarian Aid Commissioner Louis Michel said he made "a strong demand to lift the blockade which currently has very bad consequences on the people of Lebanon."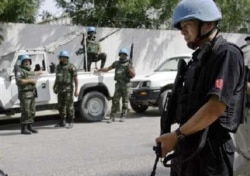 UN peacekeepers in Haiti in February 2006 (AFP)
MISSION
In cases in which international intervention in regional conflicts is deemed necessary, peacekeeping missions authorized by the UN Security Council provide legitimacy by demonstrating the commitment of the international community to address such crises.
MANDATE
UN peacekeeping missions are prepared, managed, and directed by the UN's Department of Peacekeeping Operations. The unique mandates of peacekeeping missions falls under the authority of the UN's Security Council and General Assembly, and under the command of the UN secretary-general.
MONEY
Funding for UN peacekeeping missions is provided by UN member states. All are legally obliged to pay a share under an established formula. The leading financial providers as of 2006 were: the United States, Japan, Germany, the United Kingdom, France, Italy, Canada, Spain, China, and the Netherlands.
MORE
All UN peacekeeping missions share the goals of alleviating human suffering and creating conditions for self-sustaining peace. Missions can consist of armed or unarmed military components, depending on their mandate, and various civilian tasks.
Military operations can include:
· Deploying to prevent the outbreak of conflict or the spillover of conflict across borders;
· Stabilizing conflict situations after a cease-fire in order to create an environment for the parties to reach a lasting peace agreement;
· Assisting in implementing comprehensive peace agreements;
· Leading states or territories through a transition to stable government, based on democratic principles, good governance, and economic development.
HISTORY
There have been 60 peacekeeping operations since 1948. Fifteen peacekeeping missions were in operation in mid-2006, employing more than 60,000 troops, 7,000 police, and over 2,500 military observers. Peacekeeping operations in 2006 were supported by uniformed personnel provided by 109 countries.
(source: UN Department of Peacekeeping Operations)
RELATED ARTICLES
Middle East: UN Mulls New International Force For Lebanon
Georgia: Issue Of Russian Peacekeepers Heats Up
UN: U.S. Presses For Peacekeeper Deployment To Darfur