Iraq: Tribes Join Premier's National Reconciliation Plan
http://gdb.rferl.org/4234CE5E-B862-487C-AD0C-858EC79AF52B_w203.jpg --> http://gdb.rferl.org/4234CE5E-B862-487C-AD0C-858EC79AF52B_mw800_mh600.jpg Nuri al-Maliki said Iraqis must do more to end sectarian violence (file photo) (epa) PRAGUE, August 25, 2006 (RFE/RL) -- Iraqi Prime Minister Prime Minister Nuri al-Maliki today urged the country's tribes to join his national reconciliation plan to stop sectarian strife and terrorism, saying that U.S. forces are unlikely to withdraw until Iraqis are united.
Hundreds of Iraq's tribal chiefs today signed a "pact of honor," pledging to support the prime minister's national reconciliation plan to stop the sectarian strife and terrorism tearing apart the country.
Al-Maliki today told the tribal leaders they need to do more to end the sectarian violence and hasten a withdrawal of foreign troops.
In a speech in Baghdad at a national unity conference, he said what Iraq needs is "a real national unity among Iraqis and this is the role for our tribes."
"Yes to unity, yes to Iraq," a few tribal chiefs chanted during the speech. Tribes are a key element of Iraqi society, wielding enormous influence over members. Iraqis -- whether Shi'ite, Sunni, or Kurd -- owe as much allegiance to their tribes as to the religious leaders.
Iraq's sectarian violence exploded after the bombing of a Shi'ite mosque in Samarra at the end of February. Sectarian killings and animosity between Shi'ite and Sunni communities are becoming the biggest problems for the Shi'ite-dominated unity government.
Also today, a powerful Shi'ite politician, Abd al-Aziz al-Hakim, called for southern and central Iraq to become an autonomous region. The prime minister and Iraq's Sunni organizations oppose the idea, fearing it may lead to the disintegration of the country.
Sunni Mosque Destroyed By U.S. Forces
Meanwhile, violence continued in Iraq. Iraqi police announced that gunmen shot dead the Shi'ite owner of a bakery and a policeman in separate incidents in western Baghdad.
On August 25, U.S. tanks shelled a mosque in the Sunni insurgent stronghold of Ramadi after coming under rocket-propelled-grenade and machine-gun fire from the building.
A doctor at Ramadi hospital told Reuters three people had been killed and 22 wounded by the U.S. fire. The U.S. military said they returned fire in self-defense.
"The tanks arrived and started to shell and the sniper was stationed there. The tank moved toward here. Some of the worshippers were martyred and others were wounded, we do not know how many," said Adnan Naji, the mosque's prayer caller.
"Some of the people have managed to get out of here, through holes gouged on the walls while cars started to transport the wounded," Naji added. "We do not know the number of the people who were martyred, but most of those killed were children who could not manage to escape."
Another man told reporters that the U.S. forces heavily damaged the mosque. "They burnt it. You can see the fire raging and no one can get closer because of the snipers and the Americans," he said. "No one can get closer to it."
Ramadi is the capital of the restive Al-Anbar Governorate, a center of the Sunni insurgency against U.S. forces.
Effects Of Baghdad Crackdown
However, violence appears to have dipped this month, thanks to a massive security operation by U.S. and Iraqi forces in Baghdad, where much of the fighting has taken place.
Speaking on August 25, U.S. Defense Secretary Donald Rumsfeld said extra U.S. troops have helped reduce the violence. But he said whether that lasts depends on how successful the Iraqi government would be in reconciling rival religious sects.
"It is correct; it does do it for a period," he said. "But the important thing is to have the entire process go forward -- the political, the economic, as well as the security."
Rumsfeld made the comments after meeting with Iraqi Vice President Adil Abd al-Mahdi at the Pentagon.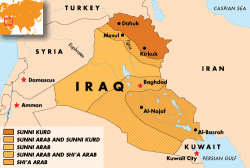 Click to enlarge the image.
SUNNI, SHI'A: Iraq is riven along sectarian lines, faults that frequently produce violent clashes and are a constant source of tension. Sectarian concerns drive much of Iraqi politics and are the main threat to the country's fragile security environment.


THE COMPLETE PICTURE: Click on the image to view RFE/RL's complete coverage of events in Iraq and that country's ongoing transition.