Russia: Beslan Movie Plans Spark Debate
http://gdb.rferl.org/1ee55c9e-5ed7-4b18-85cc-b1c2456187f2_w203.jpg --> http://gdb.rferl.org/1ee55c9e-5ed7-4b18-85cc-b1c2456187f2_mw800_mh600.jpg The world watched on television as the events unfolded (AFP) PRAGUE, August 31, 2006 (RFE/RL) -- For a filmmaker, the Beslan siege seems like an irresistible story.
The botched security operation, the sounds of explosions from inside the school, half-naked children fleeing the building in terror.
Two years since the Beslan siege claimed the lives of more than 330 people, mostly children, two Western feature films depicting the crisis are now in the works.
Firefly Films, a British production company, announced in June that it is developing a feature movie about Beslan.
Matthew Hobbs, the film's producer, says he first had the idea for the film as he watched the real-life drama unfold on television.
"So I suppose what we need to ask is what are the filmmakers trying to do? What are they trying to say, and what should they be saying?" -- professor Lizzie Thynne
"In the later days, post the siege, I thought certainly there will be some very compelling stories that will come from this horrific event and some of those may translate well in a film sense," Hobbs says. "And several years on, with the conviction of [sole surviving hostage taker Nurpashi] Kulayev by the Russian court, in late May, I thought now's possibly the time to really get the ball rolling."
Hobbs says the film, which is expected to be released in 2009, may focus not on the siege itself, but on some of the individual stories of those involved.
"In our mind we've simply said, OK, let's look at two individuals and their respective families, and let's find out their history, let's find out where they come from, [and] what happened in these years and days leading up to this horrific event," says Hobbs.
Hollywood Plans
A Hollywood production is also in the works. "Da Vinci Code" producer Brian Grazer has bought the rights to adapt a magazine article about the siege into a film script.
The article, written by "New York Times" correspondent C.J. Chivers, was published in June in the U.S.-based "Esquire" magazine.
Chivers was in Beslan at the time of the siege, and his account is a graphic, blow-by-blow account of those three harrowing days.
But isn't this all too soon? Should filmmakers dramatize such tragedies when the memories are still so raw?
Lizzie Thynne is a lecturer in media and film studies at the United Kingdom's Sussex University. She says such films are important -- as long as they try to show an understanding of the event, rather than just create drama.
"There obviously is a danger not only of trivialization, caricature, sensationalism, which is not only offending to the individual families involved, but also obviously simplifies what the history, what the political situation behind those events is," Thynne says. "I think there is a danger of that. So I suppose what we need to ask is what are the filmmakers trying to do? What are they trying to say, and what should they be saying?"
9/11 Movies
The United States grappled with the same issues immediately after the events of September 11, 2001.
Some commentators suggested that after seeing the twin towers of New York's World Trade Center fall, Americans would not want to see disaster movies ever again.
But, this year, just ahead of the fifth anniversary, two feature films about 9/11 were released.
Both films focused on specific aspects of the day, with no political commentary and without putting the events in the context of the war on terror that ensued.
Reactions to the films were mixed. Many Americans -- especially New Yorkers -- said it was too soon for the 9/11 films.
Others, however, said that such films were important, as they preserved the memory of what happened.
Support For Films
Some residents of Beslan have adopted a similar attitude. Ella Kesayeva, a member of the Voice of Beslan support group, lost two nephews in the siege. She says she is glad that Beslan is not being forgotten.
"The causes of the terror attack, the consequences of the terror attack, the terror attack itself, must be studied -- and not only by the prosecutor's office," Kesayeva says."The whole of society should reflect on why such tragedies happen. I think that making such films can help people think more about other people's grief, about the fact that this grief can affect anyone on this planet."
But the politics of moviemaking can sometimes make things a little more complicated. Russian filmmakers might be tempted to make a Beslan movie of their own.
But Kirill Belyaninov, a Russian investigative journalist, says that could be tricky -- and not only because of respect for the victims' families.
"There were some mistakes in handling the operations of freeing hostages. I spoke to some people from the Kremlin and also from some power structures -- and I think they [the Kremlin] do understand their guilt and therefore they don't really want to bring this topic up again," Belyaninov says. "Obviously, the current situation in Russia would make really hard to find funding for such a project if the government opposes it."
That likely means the first Beslan movie will be a foreign production – far from the events themselves, but free from political pressure.
For Russians used to a steady diet of Western film productions or suspicious of the Kremlin's role in Beslan, that may prove preferable viewing.
Coping With The Horror Of Beslan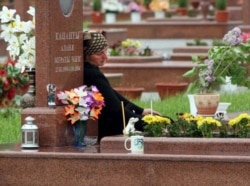 Alla Katsanty reflects on May 17, 2006, at the grave of her daughter, who was killed during the Beslan hostage taking (epa)

SURVIVING THE HORROR: More than 330 people died in the Beslan tragedy, more than half of them children. Before the bloody end of the standoff, victims endured three days of terror with almost no food, water, or medical attention. In the years since, victims, locals, Russia, and the world have all struggled to make sense of one of the most horrific events of modern times.

A video presentation on a UNESCO project to help survivors cope:
Real Player,
Windows Media
.
RELATED ARTICLES
Beslan, Russia, Pay Homage To Victims
Beslan Youth Use Photographs To Tell Their Stories
Beslan Play Rocks Moscow Theaters
An archive of RFE/RL's coverage of Beslan and its aftermath.