Russia: Independence Votes Popular In The Kremlin
http://gdb.rferl.org/4E331724-F3A8-4703-958F-4BBA45A55465_w203.jpg --> http://gdb.rferl.org/4E331724-F3A8-4703-958F-4BBA45A55465_mw800_mh600.jpg A woman in Transdniester holds a placard reading 'Russians!' (ITAR-TASS) PRAGUE, September 15, 2006 (RFE/RL) --There are many reasons to expect Moscow's deteriorating ties with the West will continue their downward trend this autumn. But the key one may be growing differences over the breakaway regions of Transdniester, Abkhazia, and South Ossetia and their stated desire to proclaim independence from Moldova and Georgia.
The issue pushing the frozen conflicts to the fore are two independence referendums -- one in Transdniester on September 17, the second in South Ossetia on November 12.
Russia, which has acted as a long-term booster for the separatist regions, is looking at the plebescites in two ways: a chance to bring the regions into the Russian fold, and -- more importantly -- a way to begin a reconsolidation of the post-Soviet republics under the patronage of Moscow.
The West is steering clear of the votes. The Organization for Security and Cooperation and Europe, the European Union, and the United States have all disavowed the referendums, saying that -- in support of the territorial integrity of Georgia and Moldova -- they will not recognize the results. Moscow, meanwhile, has stopped short of indicated whether it will recognize the ballots, but says it has long respected the "principle" of such referendums.
Patron With A Plan?
The situation in each of the three breakaway enclaves is different, but there is one thing they have in common. Since their formation in the wake of the Soviet collapse -- via armed conflicts aided, directly or otherwise, by the Kremlin -- they have all served Moscow as useful levers against Chisinau and Tbilisi.
In its support of Tiraspol, Sukhum(i), and Tskhinvali, Russia has aimed to keep restive Moldova and Georgia within its orbit. But that strategy has intensified over the past several years, as both Chisinau and Tbilisi made plain their aim of Euro-Atlantic integration and potential NATO and EU membership.
Now, for Moscow, the separatist regions can be used as more than just a thorn in the side of Moldova and Georgia. They are bona fide roadblocks on their path to Western integration. Both the NATO and the EU prohibit the accession of states with unsettled border or territorial disputes. Moscow, therefore, wants the conflicts to stay frozen as much as Chisinau and Tbilisi would like to see them thaw.
Kremlin Beneficence
Russia has worked hard to cement its influence in the three breakaway regions, providing both military and economic support. First and foremost, Moscow has been very liberal in its provision of Russian passports to enclave residents. In Abkhazia and South Ossetia, 85 percent of the population is estimated to hold Russian documents and receive the social benefits and pensions apportioned them as Russian citizens. That figure in Transdniester is considerably lower, but perhaps not for long. Russia's ambassador to Moldova, Nikolai Ryabov, this week announced a new fast-track process for receiving Russian passports had been launched in Tiraspol.
Until recently, Moscow's support of Transdniester, Abkhazia, and South Ossetia shopped short of recognizing outright their "independence" from Moldova and Georgia. Moreover, the Kremlin on many occasions stressed its loyalty to the notion of territorial integrity. This stance clearly reflected Kremlin fears that a pro-separatist position would fuel independence ambitions in places where it is decidedly inconvenient for Moscow, most notably Chechnya.
But a significant shift in that policy could be seen this year. In January, Russian President Vladimir Putin linked the issue of unrecognized states to the anticipated resolution of the status of the Serbian province of Kosovo. "If someone believes that Kosovars can get full state independence," Putin said, "why should we refuse the same for the Abkhaz and South Ossetians?"
A Model Solution
Since then, Putin has several times referred to Kosovo as a model for the frozen conflicts in the post-Soviet space. In doing so, Putin appears eager to mobilize the support of Spain, Turkey, China, India, and other countries with their own separatist difficulties.
Assuming sufficient turnout, the results of the Transdniester and South Ossetian referendums will be the same -- a resounding "yes" for independence, with an eye on eventual union with Russia. (Abkhazia, for its part, will not hold a similar plebiscite, but will pursue its own drive for independence based on the results of its 1994 referendum.)
But the results are largely meaningless. While Russian law provides for the adoption of foreign states into the federation, the provision applies only to regions subject to international law, which South Ossetia and Transdniester are not.
Not An Empty Exercise
Why, then, are the referendums being held?
One reason is Moscow's desire to keep the conflicts simmering in order to hamper Georgian and Moldovan NATO and EU bids. But there is a second possible reason as well -- an ambition among Soviet nostalgists to set a precedent for reintegrating former Soviet territory with Russia, with the eventual aim of creating a new but familiar superstate -- a kind of USSR-2.
Economist Mikhail Delyagin, the director of the Moscow-based Globalization Institute, offered perhaps the best description of the concept in a commentary published on September 11 in "Nezavisimaya gazeta." The recognition of the breakaway regions, he wrote, "will launch a real, not fictitious, reintegration of the post-Soviet space."
He added: "The disintegration of the USSR turned us into a divided nation. This applies to not only Russians, but also Ukrainians, Kazakhs, Belarusians, and others. And we should recognize ourselves as being divided people moving toward reunion."
Post-Soviet 'Superstate'
Other pundits find the idea appealing as well. The economic analytical site iamik.ru, for example, in August published a 25-page report proposing a possible course for Russia's policy goals through 2015.
They include the creation on the territory of the Commonwealth of Independent States a state, or superstate, comprising a population of 300 million and based on a common market and currency.
Another similar project, published on panarin.com, proposes the creation by 2014 of a new state, Eurasian Rus. It begins with the unification of Russia, Belarus, Kazakhstan, Kyrgyzstan, Uzbekistan, Tajikistan, and Armenia, all by 2008. By 2010, this hypothetical superstate will have grown to include Mongolia, Serbia, Macedonia, Greece, and Bulgaria. Four years later, Turkey, Syria, Lebanon, North and South Korea, and all of Eastern Europe will have joined the club as well.
However fantastic such a project may seem, the breadth of its ambitions cannot be ignored, especially considering that Russia's leading Unified Russia has already labeled itself the party of "historical revanchism" with an eye to the 2007 parliamentary elections.
What Comes After The Referendums?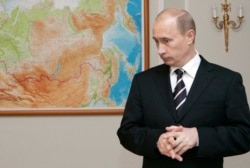 Russian President Vladimir Putin at his presidential residence outside of Moscow in July (TASS)
EXPANSION PLANS?
Russia is well equipped -- at least constitutionally -- to absorb breakaway republics like Transdniester, Abzhazia, and South Ossetia into its federation.
In 2001, on the initiative of Russia's presidential administration, the Duma approved a law that allows the Russian Federation to absorb not only foreign states, but also their parts. This includes entities that have no physical borders with Russia, for example Transdniester.
The law, however, stipulates that the territorial exchanges can be done only after legal agreement with the central government of the country to which the breakaway territory belongs.
Since the law was passed, various deputies and bodies have tried to change the legislation in order to make it easier for Russia to incorporate foreign territories. In July 2004, Andrei Kokoshin, the chairman of a Duma committee on links with CIS and other foreign countries, asked the Supreme Court what would be the quickest way of Russia legally absorbing South Ossetia. The court ruled that incorporating South Ossetian territory into the Russian Federation could only be done in talks with the Georgian government.
In 2005, the Duma rejected proposals from the nationalist Motherland party that Russia could incorporate foreign territory based only on the will of a local population. By this logic, Russia, with its interethnic problems, could also become the victim of similar tactics from neighboring states. For example, in Finland, Estonia, and Latvia there are public groups making claims on Russian territory.
So what is Moscow likely to do after the referendums in Transdniester and South Ossetia? First, it will begin a campaign to get international legal recognition of the results of the polls. Second, it will recognize the results of the referendums and encourage its allies in the Commonwealth of Independent States (CIS) to do the same.
It could also feasibly incorporate them in the CIS. Or unite them in a kind of mini-CIS-2. The leaders of Transdniester, South Ossetia, and Abkhazia have already formed, under Russian patronage, an alliance of "unrecognized states" and signed an agreement of mutual political and military support.
And Moscow is also likely to encourage its own internal regions, which are not subject to international law, to recognize the breakaway regions. For example, Yury Luzhkov, the mayor of Moscow, recently said that "Moscow recognizes South Ossetia and Abzhazia."