Georgia Blames Russia For Man's Death
http://gdb.rferl.org/88954670-F8D2-4541-AA8B-CA5F8FAA2AEB_w203.jpg --> http://gdb.rferl.org/88954670-F8D2-4541-AA8B-CA5F8FAA2AEB_mw800_mh600.jpg Georgians deported from Russia arrive in Tbilisi on October 6 (InterPressNews) October 18, 2006 -- The Georgian Foreign Ministry said today the death of 48-year-old Georgian citizen Tengiz Togonidze was a result of Russia's "inhuman" and "anti-Georgian campaign."
The Georgian died of an asthma attack on October 17 in an Moscow airport during his deportation from Russia. According to the ministry, Togonidze, who was detained on October 3 in St Petersburg, was not provided with sufficient medical care.
The exact number of deported Georgians is not exactly known. The Foreign Ministry said the majority of deportees had valid visas.
Georgian Prime Minister Zurab Noghaideli said today that the anti-Georgian campaign in Russia is alarming.
("UNAG")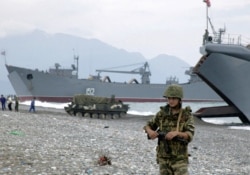 Russian military hardware being withdrawn from a Russian base in Batumi, Georgia, in August 2005 (TASS)

WHAT COMES NEXT? Although Russia is unlikely to push an aggressive military response to the current tensions with Georgia, it has a number of economic, political, and diplomatic options at its disposal. Already on October 1, Russian President Vladimir Putin summoned his inner circle to weigh Moscow's options... (more)
RELATED ARTICLES
Russia Says Georgia Sanctions Will Continue
Russia Suspends Transport, Postal Links To Georgia
EU Commissioner Urges Dialogue With Moscow
Ulterior Motives Seen Behind Escalation Of Spy Row
Georgia Turns Russians Over To OSCE
MORE: Coverage of the situation in Georgian from RFE/RL's Georgian Service and in Russian from RFE/RL's Russian Service.
ARCHIVE
RFE/RL's English-language coverage of
Georgia
and
Russia
.