Germany: Scandal Erupts Around Afghan Skull Photos
http://gdb.rferl.org/3C4C3E16-E29E-4C6D-9FAC-A5BDC823F3B5_w203.jpg --> http://gdb.rferl.org/3C4C3E16-E29E-4C6D-9FAC-A5BDC823F3B5_mw800_mh600.jpg Issue of 'Bild' with photos of German soldiers (epa) October 28, 2006 -- Two German soldiers who served in Afghanistan have been suspended after a newspaper printed photos of them with skulls, presumably from dead Afghans.
It may not have the impact of photographs of U.S. soldiers abusing inmates at the notorious Abu Ghraib Prison in Iraq, but the publication by the German daily "Bild" of photographs of two German soldiers holding skulls in Afghanistan while serving with the NATO-led International Security Assistance Force in 2003 and 2005 has produced strong reactions in the German government.
The "Bild" headline with the soldiers' photographs read "Desecration of the Dead." German Defense Minister Franz Josef Jung said on October 27 that there was no place in the German armed forces for soldiers who engaged in such practices.
"Let me stress this again: such behavior is contrary to our training and guidelines and therefore has no place within the Bundeswehr [German Army]," he said. "We have taken the consequences for the two identified offenders. With immediate effect, they will no longer be a part of the Bundeswehr."
Who Is Responsible?
The incident has sparked debate also about who is ultimately responsible for such conduct -- the soldiers caught in the pictures, their commanders, or the commanders of the Bundeswehr.
Renate Kuenast, the parliamentary leader of the Green Party, sympathized with the problems soldiers serving in Afghanistan face. She said the problem could lie with officers in Afghanistan.
"One thing is clear: the very large majority of the Bundeswehr soldiers behaves OK in my view and carries out a very difficult task," she said. "The Bundeswehr must make clear how to behave appropriately and they must think about how to support a Bundeswehr soldier in a stressful situation. Something like this cannot happen and those officers in charge at the scene must stop it."
Gregor Gysi, the parliamentary leader of the opposition Left Party, said training and selection could be to blame. "At the moment, there are too many psychological explanations in my view," he said. "First, it has to be stopped and clearly condemned. Then you can start thinking about who becomes this way and why -- and what can be done about it. Training and a lot of other matters will play a role. Maybe we should also consider much more carefully where we deploy soldiers and when."
Rainer Arnold, a defense expert from the Social Democrats, said the photos hurt the Bundeswehr's reputation, but added that such behavior is an exception, not the norm, "that people in Germany know that the overall majority of soldiers act very responsibly in their day-to-day business."
Defense Minister Jung has canceled a planned visit to Asia so that he can stay in Berlin to deal with the scandal. He said he is dispatching an official to Afghanistan who will "report to me on the motivation, discipline, and the condition of the training of the soldiers stationed there."
Jung said there could be photographs of a similar nature that could be printed in the future. German Chancellor Angela Merkel said she feared the photographs could compromise the safety of German troops in Afghanistan.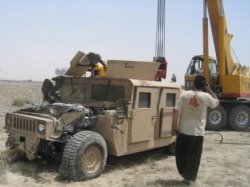 A U.S. military vehicle damaged by insurgents near Kandahar (epa)
HOMEGROWN OR IMPORTED? As attacks against Afghan and international forces continue relentlessly, RFE/RL hosted a briefing to discuss the nature of the Afghan insurgency. The discussion featured Marvin Weinbaum, professor emeritus of political science at the University of Illinois at Urbana-Champaign, and RFE/RL Afghanistan analyst Amin Tarzi.
LISTEN
Listen to the entire briefing (about 83 minutes):
Real Audio
Windows Media
ARCHIVE
RFE/RL's
coverage of Afghanistan
.
SUBSCRIBE
For weekly news and analysis on Afghanistan by e-mail,
subscribe to "RFE/RL Afghanistan Report."