UN Passes New Iran Sanctions Resolution
http://gdb.rferl.org/3E349F5B-B01B-4D6C-8917-1FA4B1CC2948_w203.jpg --> http://gdb.rferl.org/3E349F5B-B01B-4D6C-8917-1FA4B1CC2948_mw800_mh600.jpg British UN Ambassador Emyr Jones Parry (left), acting U.S. Ambassador Alejandro Wolff (center), and Chinese Ambassador Wang Guangya before today's vote (AFP) March 24, 2007 (RFE/RL) -- The UN Security Council has unanimously approved a resolution authorizing expanded sanctions against Iran for its continuing failure to halt uranium enrichment.
After the vote, Iran dismissed the resolution as "unnecessary and unjustified."
The resolution broadens sanctions imposed on Iran in December for ignoring repeated demands to suspend its sensitive nuclear fuel work.
Today's vote was the culmination of a weeklong diplomatic push by the five permanent members of the Security Council, plus Germany.
"The result of the voting is as follows: the draft resolution received 15 votes in favor," South African UN Ambassador Dumisani Kumalo, who is the current president of the Security Council, announced. "The draft resolution has been adopted unanimously as Resolution 1747 of 2007."
Details Of The Resolution
The new resolution bans all Iranian arms exports and asks countries to restrict financial aid and loans to Tehran. It also freezes the assets of 28 additional officials and institutions linked to Iran's nuclear and missile programs. About one-third of those officials are linked to Iran's elite Revolutionary Guard Corps.
The resolution gives Tehran 60 more days to comply with UN demands or face what the measure calls "further appropriate measures" under Article 41 of the UN Charter. That would include further economic sanctions, but not military force. It also calls for a voluntary travel embargo against Iranian officials named in the text.
After the vote, British UN Ambassador Emyr Jones Parry read a statement on behalf of the five veto-wielding members of the Security Council -- Britain, China, France, Russia, and the United States -- plus Germany and the high representative of the European Union.
"The unanimous adoption of Security Council Resolution 1747 reflects the international community's profound concerns over Iran's nuclear programs," he said. "We deplore Iran's failure to comply with the earlier resolutions of the Security Council and the International Atomic Energy Agency, and we call upon Iran, once again, to comply fully with all its international obligations."
Jones Parry also addressed the council in his capacity as Britain's representative.
"This resolution, building upon resolutions 1696 and 1737, sends a unanimous and unambiguous signal to the government and people of Iran," he said. "To both, we say that we prefer and are committed to the path of cooperation, but we say also that the path of proliferation by Iran is not one that the international community can accept."
Acting U.S. Ambassador to the UN Alejandro Wolff also welcomed the action and the show of international solidarity.
"The United States is pleased that the Security Council has, once again, unanimously taken action against what is clearly a grave threat to international peace and security," Wolff said.
"While we hope that Iran responds to this resolution by complying with its international legal obligations," he added. "The United States is fully prepared to support additional measures in 60 days should Iran choose another course."
Iran's Reaction
Iran has consistently rejected charges that it is seeking to develop atomic weapons, saying its nuclear program is intended only to generate electricity.
Iranian Foreign Minister Manuchehr Mottaki, addressing the Security Council after today's vote, called the resolution "unnecessary and unjustified" and said Iran presents no threat to international peace or security.
He reiterated that Iran's nuclear program is intended for "completely peaceful" purposes.
"This is the fourth time in the last 12 months that an unwarranted move orchestrated by a few of its permanent members, the Security Council is being abused to take an unlawful, unnecessary, and unjustifiable action against the peaceful nuclear program of the Islamic Republic of Iran, which presents no threat to international peace and security," Mottaki said.

Ahmadinejad Did Not Appear
Iranian President Mahmud Ahmadinejad had been expected to address the Security Council today. But he canceled the trip to New York at the last minute. The United States has rejected Iranian allegations that it failed to issue visas early enough to allow Ahmadinejad to make the trip.
The draft of the resolution was agreed by the five veto-wielding members of the Security Council, plus Germany, on March 23. It was later amended in an effort to overcome the objections of several elected members of the Security Council, including South Africa, Indonesia, and Qatar.
Today's resolution builds upon an earlier Security Council resolution, adopted on December 23, that banned trade in sensitive nuclear and missile technology. It also froze the assets of officials linked to Iran's atomic programs.
The new resolution says sanctions will be suspended if the UN's nuclear agency, the International Atomic Energy Agency, confirms that Iran has suspended its uranium-enrichment activities.
What Would Sanctions Mean?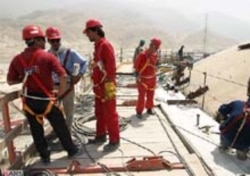 Economic sanctions could further undermine Iran's already shaky economy (Fars)


MOVING TOWARD SANCTIONS: If the United Nations Security Council imposes sanctions on Iran, domestic support for Iranian President Mahmud Ahmadinejad will wane, according to ALEX VATANKA, Eurasia editor for Jane's Information Group.
Vatanka told a February 24 RFE/RL briefing that "economic sanctions will hurt the average Iranian" and, consequently, many "will blame the ruling clerics" for making life difficult and "impairing the country's long term development."
Vatanka said sanctions would be a serious challenge to the Iranian government. If harsh economic sanctions were imposed, Iran's poorest population will be hurt the hardest -- and might react "as they did in the 1970s and protest in the streets." Sanctions on travel, Vatanka said, would hurt a many Iranians because "Iran is a nation of small traders" who depend on the ability to travel to earn an income. According to Vatanka, unemployment in Iran is estimated at 30 percent, "so small trading is essential to survival." Although current U.S. sanctions "haven't worked," he said, "Iranians fear an oil embargo." He stressed that "oil revenues are a major part of the economy, so it is critical to look at this sector."
Should negotiations with the European Union and the UN fail, Vatanka believes that Iran would follow a "North Korea model," since Ahmadinejad's base of support among the "Islamist militias" has been "urging withdrawal from the NPT [Nuclear Non-Proliferation Treaty]." The Iranian government's "tactic" so far, Vatanka said, is governed by the belief that "by shouting the loudest, you'll get concessions [from the West]."
LISTEN
Listen to the complete panel discussion (about 60 minutes):

Real Audio
Windows Media

THE COMPLETE STORY: RFE/RL's coverage of the controversy surrounding Iran's nuclear program.
CHRONOLOGY
An annotated timeline of Iran's nuclear program.