UN Panel Issues Grim Climate Report
http://gdb.rferl.org/31B77F26-9144-471E-ABE7-B11E706C27B3_w203.jpg --> http://gdb.rferl.org/31B77F26-9144-471E-ABE7-B11E706C27B3_mw800_mh600.jpg Afar desert of eastern Ethiopia (file photo) (Courtesy Photo) April 6, 2007 (RFE/RL) -- The world's leading climate scientists today issued a grim report on the current and future effects of global warming.
In the second installment of a four-part series, experts on the United Nations Intergovernmental Panel on Climate Change (IPCC) are warning that global warming will affect much of life on Earth this century.
The head of the UN panel, Rajendra Pachauri, did not mince words when he unveiled the findings at a news conference in Brussels today.
"It's the poorest of the poor in the world -- and this includes poor people even in prosperous societies -- who are going to be the worst hit and will be the most vulnerable as far as the impacts of climate change are concerned," Pachauri said.
Pachuri and scientists from more than 130 countries have spent the past week in marathon debating sessions in Brussels that only ended today, with a consensus agreement and the report's release.
The United States, China, and Saudi Arabia had delayed matters -- each of them objecting to tough wording in the text on the impact of global warming in their respective regions.
Tool For Policymakers
The report predicts that billions of people will face water scarcity and spreading diseases. And it forecasts that hundreds of millions are likely to go hungry, mainly in the poorest regions least to blame for greenhouse gas emissions blamed for global warming.
The report is intended as a guide for government policymakers. In that light, Martin Hiller, a spokesman for the World Wildlife Fund, told reporters in Brussels ahead of its release today that the report would be a vital tool.
"'The report is extremely important because it documents what risks we are running with climate change," Hiller said.
"There is a very big report with two thousand pages behind that which will be published later this year, but this is the summary for decision makers, so it's like the peak of the iceberg," he added.
According to the report, glacier meltdown and ice sheet erosion will accelerate, with potentially devastating impacts on sea levels. The report also projects that at least one-fifth of animal species and plant species are in danger of extinction.
Tipping Points
Martin Perry, a member of the IPCC panel, said there could be regional "tipping points" where climate change happens much faster than elsewhere.
"These are the places we think are the tipping points regionally: the Arctic because of high amounts of warming, Sub-Saharan Africa because of drying, small islands because of their inherent sensitivity, lack of infrastructure -- they are on their own -- and Asian mega deltas," Perry told reporters.
The report also said that damage to weather systems from greenhouse gases will change rainfall patterns, increase the power of storms, and boost the risk of drought, flooding, and water stress.
And poor countries, particularly in Africa, are likely to face rising bills for a variety of ills, such as water shortages, malnutrition from dry fields, property damage, and the spread of diseases such as malaria by mosquitoes and other vectors
"Another vulnerability is human health in those areas where adaptive capacity is low, where there is malnutrition and poorly developed public health systems," Perry said.
The panel says the extent of climate change's impact will depend on how high temperatures rise in the coming decades.
In the first volume of the report, issued in February, the IPCC said the average global temperature had already risen by 0.74 C in the past century. By 2100, it could rise between 1.1 C and 6.4 C.
Scientists say the between those two figures lies the difference between "relatively widespread" pain from climate change and global catastrophe.
(with material from agency reports)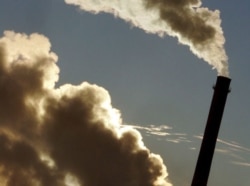 View a photo gallery summarizing some key findings of the Stern report on the economic costs of global warming (epa)

THE STERN REPORT: In October, former World Bank chief economist Sir Nicholas Stern issued a 700-page report on the economic impact of global warming. The report, which was commissioned by the British government, estimates that climate change could cost between 5 and 20 percent of global GDP by the end of the century....(more)
RELATED ARTICLES
Siberia's Once Frozen Tundra Is Melting
Blair Highlights Global-Warming Concerns
Scientists Argue About Need For Urgent Action
ARCHIVE
RFE/RL's
coverage of the environment
.