UN Authorizes Kosovo Fact-Finding Mission
http://gdb.rferl.org/1C17BFE1-5E4C-4506-A529-5E2B65502B89_w203.jpg --> http://gdb.rferl.org/1C17BFE1-5E4C-4506-A529-5E2B65502B89_mw800_mh600.jpg Russian UN Ambassador Vitaly Churkin (file photo) (official site) UNITED NATIONS, April 13, 2007 (RFE/RL) -- The UN Security Council has agreed to a Russian proposal to send a fact-finding mission to the breakaway Serbian province of Kosovo before deciding on its final status.
"We are looking forward to this mission going to the area before the end of the month," Russian UN Ambassador Vitaly Churkin told journalists today. "And we are looking forward to receiving a briefing from the [UN] Secretariat on the implementation of Resolution 1244 before the mission leaves New York."
Churkin said the head of the mission and its members will be announced shortly.
Russia was pushing strongly in the Security Council for this fact-finding mission as a way of finding a final-status solution that Belgrade could support.
Three permanent members of the Security Council -- the United States, Britain, and France -- are supporting the recommendation of the UN's special envoy for Kosovo, Martti Ahtisaari, that Kosovo be given the status of "supervised independence." Serbia has rejected Ahtisaari's plan.
The other two permanent council members -- Russia and, to an extent, China -- object to Ahtisaari's recommendation.
A final decision on Kosovo's status is expected to be put to vote before the summer.
The Kremlin Looks At Kosovo...And Beyond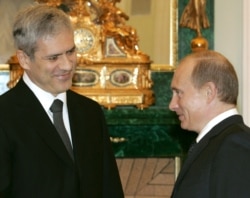 Russian President Vladimir Putin (right) greets Serbian President Boris Tadic in the Kremlin in November 2005 (TASS)
WILL THE KREMLIN BACK INDEPENDENCE? As the drive for independence grows in the Serbian province of Kosovo, the international community is speculating on how Russia, a veto-wielding member of the UN Security Council, will act. On September 22, Nicholas Whyte, director of the International Crisis Group's Europe Program, gave a briefing on the subject at RFE/RL's Washington, D.C., office. He speculated on what the Kremlin's "price" might be for agreeing to Kosovo's separation from Serbia.
LISTEN
Listen to the entire briefing (about 45 minutes):
Real Audio
Windows Media
RELATED ARTICLES
Referendums Seen As Kremlin's Master Plan
Independence Votes Popular In The Kremlin
Putin Warns Against Montenegro Model
How Does Moscow View Frozen CIS Conflicts?
Putin Calls For 'Universal Principles' To Settle Frozen Conflicts
ARCHIVE
RFE/RL's coverage of
Kosovo
and
Russia
.
SUBSCRIBE
For news and analysis on Russia by e-mail,
subscribe to "RFE/RL Russia Report."