Azerbaijan: Media Under Growing Pressure As Election Nears
http://gdb.rferl.org/5E1D0709-993F-4D1F-88CA-656E42D5F40A_w203.jpg --> http://gdb.rferl.org/5E1D0709-993F-4D1F-88CA-656E42D5F40A_mw800_mh600.jpg The sealed office of the two newspapers on May 20 (Turan) BAKU, May 24, 2007 (RFE/RL) -- Authorities in Azerbaijan have closed down the joint office of two independent newspapers.
Officials say the closure was due to safety concerns with the building.
Since then, National Security Ministry personnel have searched the offices of the Russian-language "Realny Azerbaijan" and its Azeri-language sister newspaper, "Gundelik Azerbaycan." Police have confiscated files and equipment.
The reason, according to the authorities, was that the newspapers' rented offices on the ground floor were unsafe.
That's an explanation the newspapers' staff contests. They claim the closure of the offices is political -- a response, they say, to articles critical of the government.
On May 23, both of the newspapers announced that they could no longer carry on printing.
"Our equipment has been confiscated," "Gundelik Azerbaycan" Editor in Chief Sahveled Cobanoglu said. "We don't have an office. We are on the street right now. While I'm talking to you at the moment, we are on the street."
Not The First Time
The papers have been targeted before. Their founder and investigative reporter, Eynulla Fatullayev, was sentenced to 2 1/2 years' imprisonment in April for defaming the armed forces.
Now, those charges have been extended. On May 22, the National Security Ministry opened a criminal case against Fatullayev on charges of terrorism. Security personnel have searched Fatullayev's Baku apartment and confiscated some of his belongings.
Mehman Aliyev, a member of Azerbaijan's Press Council and director of the news agency Turan, says he believes the new case against Fatullayev is political.
"I believe this case is fabricated" Aliyev said. "They have brought these terrorism charges to portray [the idea] that they are fighting against terror on an international level. The second goal here is to threaten people inside Azerbaijan -- so the journalists and others who are defending Fatullayev will be fearful because of these terrorism charges. The goal is here is to weaken his defense. Unfortunately all these latest arrests show that they have political means. The main goal is to silence journalists in Azerbaijan."
Journalists In Jail
Independent journalists in Azerbaijan say such charges and closures are part of a continuing trend of the authorities clamping down on free media.
On May 4, a district court in Baku sentenced two journalists to jail terms for an article that was deemed critical of Islam and the Prophet Muhammad.
In November, the authorities evicted staff members from the opposition "Azadliq" newspaper on the grounds of an ownership dispute concerning the building.
And with seven journalists imprisoned, Azerbaijan has the highest number in jail among OSCE members.
International rights groups say that journalists are regularly pressured by the authorities. The Paris-based media watchdog Reporters Without Borders has included Azerbaijani President Ilham Aliyev as one of its "press freedom predators."
In an open letter to President Aliyev on May 23, the Chicago-based World Press Freedom Committee said that Azerbaijan's high number of imprisoned journalists made it "one of the least press-freedom-friendly countries in the world."
Election Connection?
The big question is, why? Why has Azerbaijan -- a country with a weak, fractured opposition -- now taken action against two small-circulation newspapers?
Elsa Vidal from the Paris-based media watchdog Reporters Without Borders has no doubt the recent clampdown is connected to Azerbaijan's presidential election in 2008.
"There is an absolute need to keep the journalists silent and, unfortunately, I would like to say to Mr. [President Ilham] Aliyev that this is not a reachable goal," Vidal said.
Officials have said that the country has a free press.
Ali Hasanov, a senior aide to the Azerbaijani president, on May 23 denied the government is cracking down the media. Hasanov said recent jailings of journalists were justified and called international criticism about attacks on the media "subjective."
Freedom of speech, he said, does not mean journalists can break the law.
Presidential chief of staff Ramiz Mehdiyev also denies accusations the government has political motives in its dealings with the press.
"The issue of the press is not connected to the presidential election," Mehdiyev said. "In no way is it connected. If today, we decided to conduct research, I believe that 98 percent of the population would vote for the president to become president once again."
In the 2003 presidential election, Ilham Aliyev received 78 percent of the vote. The election was marred by violence and widespread reports of violations.
Human Rights In Azerbaijan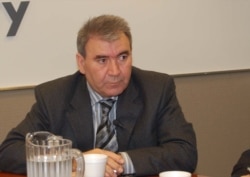 Azerbaijani parliamentarian and historian Jamil Hasanli speaking at RFE/RL on November 29 (RFE/RL)

THE CURSE OF OIL. On November 29, RFE/RL's Washington office hosted a briefing on democratic development in Azerbaijan. The briefing featured liberal opposition lawmaker Jamil Hasanli and former political prisoner and activist Murad Sadaddinov. The two men discussed the international commitments Azerbaijan has made in the area of human rights in order to secure investment in its energy sector and offer advice as to how the international community should deal with Baku.
LISTEN
Listen to the entire briefing (about 90 minutes):

Real Audio
Windows Media
RELATED ARTICLES
Authorities Intensify Pressure On Independent Media
Azerbaijan: Coping With The Oil Windfall
EU Taking Note Of Baku's Strength
Azeri Journalist's Prison Sentence Denounced As Political
ARCHIVE
RFE/RL's English-language coverage of
Azerbaijan
.
SUBSCRIBE
For a regular review of civil-society developments throughout RFE/RL's broadcast region,
subscribe to "RFE/RL (Un)Civil Societies."