Kazakhstan: Media Ownership Leaves Little Room For Independence
http://gdb.rferl.org/3C68D6E5-9EE3-4CE0-89C5-F613CE8F14A7_w203.jpg --> http://gdb.rferl.org/3C68D6E5-9EE3-4CE0-89C5-F613CE8F14A7_mw800_mh600.jpg President Nazarbaev dominates Kazakhstan's media (file photo) (official site) May 25, 2007 (RFE/RL) -- If you live in Kazakhstan or are just visiting, you won't find much criticism of the government on television and radio or in the newspapers.
That's not necessarily because the government is running the country so well that everyone is completely satisfied. The lack of criticism of the government is the result of a process that has been under way for 15 years.
Presidential Influence
With the exception of a few independent newspapers and television and radio stations, the media in Kazakhstan is firmly under the control of people who are either loyal to or related to President Nursultan Nazarbaev. That situation has existed for years and was noted in 2001 by Emma Gray, who was working for the Committee to Protect Journalists.
"The most striking feature of media in Kazakhstan is the way in which
Nazarbaev and his family and business associates have taken control of
all of the most influential organs of the media in the republic."
"The most striking feature of media in Kazakhstan is the way in which Nazarbaev and his family and business associates have taken control of all of the most influential organs of the media in the republic," Gray said at the time. "Television, newspapers, radio -- [Nazarbaev] controls pretty much all of the most important, the most powerful and influential media in his country."
Relatives and friends of Nazarbaev started acquiring media outlets shortly after Kazakhstan became independent in 1991. The most visible example of this was Nazarbaev's daughter Darigha, who at one time was the head of the state news agency, Khabar. Darigha stepped down as head of the news agency when she formed her own political party in 2003, but she retains great influence there.
Financial Takeovers
Independent media suffered a further setback when Kazakhstan's economy started to blossom thanks to rising oil exports. Many of the influential businesspeople in Kazakhstan are friends and allies of the president and they used their new wealth to buy stakes in television and radio stations and formerly independent newspapers.
One example is the weekly newspaper "Karavan" and the KTK television station, which during most of the 1990s were among the many media that carried reports criticizing the government.
A media group led by Darigha's husband, Rakhat Aliev, bought both the newspaper and the television station in 1998. (The Prosecutor-General's Office suspended operations at both organizations on May 24, after criminal charges were filed against Aliev.)
Other media outlets have experienced similar fates, being bought by wealthy friends and relatives of the Kazakh president in what some term a "soft" crackdown on the media.
Harsher Measures
This "soft" crackdown would not be possible, though, were it not for the much harsher tactics employed by the state when there were many independent media that often ran reports critical of the government and Nazarbaev.
These tactics included the harassment of independent journalists, some of whom were beaten and even killed under suspicious circumstances. Independent media offices were also vandalized, one example being the "Karavan" office, which was fire-bombed in 1995, days before a referendum that extended Nazarbaev's term in office.
Now the few independent media outlets that exist in Kazakhstan face a different threat -- fines or closure by the courts, as Tamara Kaleeva, the head of the Kazakh media-freedom group Adil Soz, told RFE/RL last year.
"We have a serious problem with judicial persecution of the media; these are criminal cases and the biggest obstacle we see from year to year is the civil and administrative cases [against the media], mainly accusations of insulting the honor and dignity [of government officials] and the crazy, astronomical fines imposed for moral damage," Kaleeva said.
The fines Kaleeva mentioned are often exorbitant enough to cause the closure of independent media. Unpaid taxes or irregularities in the media company's registration are also given as reasons for shutting down independent media.
(RFE/RL's Kazakh Service Director Merhat Sharipzhanov contributed to this article.)
'Attacks On The Press -- 2006'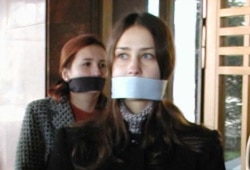 Ukrainian journalists demonstrating against censorship in December 2006 (RFE/RL)


'DOMINO EFFECT.' Two experts with the Committee to Protect Journalists told an RFE/RL-Radio Free Asia briefing on February 6 that their organization is concerned Russia's increasingly restrictive media environment is being copied by other countries in the CIS.
LISTEN
Listen to the entire briefing (about 80 minutes):

Real Audio
Windows Media
RELATED ARTICLES
New Program Finds Way Around Internet Censorship
CPJ Discusses Dangers, Obstacles Journalists Face
East: RSF Calls Iraq, Iran 'Graveyard Of Freedom'
Media Situation Worsening In Central Asia, Russia, Azerbaijan
SUBSCRIBE
For regular news and analysis on media issues throughout RFE/RL's broadcast area by e-mail,
subscribe to "RFE/RL Media Matters."