Belarus: Polish Filmmaker Overcomes Obstacles To Document Contentious Election
http://gdb.rferl.org/84360C4C-E267-42AB-9EA7-DDEAA0FD0A97_w203.jpg --> http://gdb.rferl.org/84360C4C-E267-42AB-9EA7-DDEAA0FD0A97_mw800_mh600.jpg A scene from "A Lesson of Belarusian" (Courtesy Photo) NEW YORK, June 14, 2007 (RFE/RL) -- A documentary telling the story of a 17-year old Belarusian boy and his friends during Belarus's rigged 2006 presidential elections is making its U.S. debut today at the 2007 Human Rights Watch International Film Festival in New York. "A Lesson Of Belarusian" was well received in Europe, but it didn't get to the screen without difficulties. Polish filmmaker Miroslaw Dembinski tells RFE/RL correspondent Nikola Krastev how he overcame being denied entry to Belarus, and how he relied on the young protagonist, Franek Viacorka, and a Belarusian film student to complete the work.
RFE/RL: How did you manage to earn the trust of the Belarusian youths in your film, considering that many there go by the adage "Don't trust anyone over 30."
Miroslaw Dembinski: It was easier for me to feel the same like the young guys. I have two children their age, my daughter is 25 and my son is 24. But exactly 25 years ago during the martial law in Poland, during the communist period in Poland, I was in a very similar situation like Franek and his friends today. I spent two months in prison for distributing a newspaper with the Solidarity sign and the situation in Poland in that period and the present time in Belarus are very similar. For me it was like kind of deja vu. I returned to my youth and maybe this makes it easier for me to feel the same what Franek and his friends feel.
"All material connected with Franek, all footage about Franek was made by Max, the very brave young student from the underground school." -- Dembinski
RFE/RL: Were your crew members in Minsk placed under surveillance after you were denied entry into Belarus?
Dembinski: One day before the elections my camera man phoned me and said that there were a lot of police behind the door and they are knocking at the door rapidly, he asked what to do. My wife said "Don't open [the door]." I was very scared at that moment because I was responsible for those two guys [in Minsk]. I called the Polish Embassy and asked the consul to come to the place. I also called the Polish TV correspondent and asked them to be there. In half an hour they were there. For two hours they [police] did not allow the consul to [meet] with them and they arrested [seized] all our equipment. But we [stored] our footage at the railroad station, in boxes at the railroad station. It is a very funny trick from bad crime stories but it worked in these circumstances.
RFE/RL: What happened after the police seized your equipment?
Dembinski: One day before elections we had no cameras, no crew in Minsk, but we had to do the film and the elections were very important. And in that moment one of the pupils from this underground school who took part in the [filmmaking] workshop in Warsaw, he found a nonprofessional camera, and the main character of the film, Franek, went to the square where the protests took place. And all material connected with Franek, all footage about Franek was made by Max, the very brave young student from the underground school.
RFE/RL: What led you to seek out the protagonist, Franek Viacorka, and his friends?
Dembinski: When I started to consider making a film about Belarus, I realized that the most interesting part of the population is the youth because the older generation is afraid of changes.
They prefer small stabilization [social security], they are afraid, they are under pressure of the [president] Lukashenka propaganda. Sometimes they are even missing the Soviet times and are very conservative. But the young generation is completely different. They have European aspirations, they would like to live like other young Europeans. They prefer democracy and freedom more than bread and sausage.
RFE/RL: What is the perception among Poles about the situation in Belarus, how do they feel about it?
Dembinski: They are rather ambivalent. One year before "A Lesson Of Belarusian" [was filmed] I went to Ukraine to make a documentary about the Orange Revolution in Ukraine. And I can compare Polish support for Ukraine, which was very strong, very popular. Ukraine was very popular in Poland and [with] Polish people. There was a lot of friction between Poles and Ukrainians [throughout] history but the Orange Revolution was a possibility to show the support from the Polish side. Ukrainians were very grateful for this support and [the] Polish-Ukrainian connection was stronger from this period [on]. From the Polish side the support for Ukrainians was much stronger than for Belarus.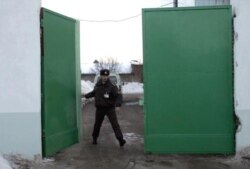 A police officer closes the gate on a Minsk detention center after demonstrators were brought there on March 24, 2006 (RFE/RL)
LOOKING BACK: On March 21, 2006, RFE/RL's Washington office hosted a briefing on the March 19 presidential election in Belarus and its unfolding aftermath. The roundtable discussion featured CELESTE WALLANDER, director and senior fellow at the Russia and Eurasia Program of the Center for Strategic and International Studies; "The New York Times" Moscow correspondent STEVEN LEE MYERS; and RFE/RL Belarus Service Director ALEXANDER LUKASHUK (the latter two speaking via telephone from Minsk).
The roundtable discussion focused on the actions of the administration of President Alyaksandr Lukashenka during the campaign and the election and on what the world can expect from Lukashenka's third term in office.
Listen to the entire briefing (about 60 minutes):
Real Audio Windows Media


THE COMPLETE PICTURE: Click on the image to view a dedicated page with news, analysis, and background information about the Belarusian presidential ballot.