Iran: Case Of Canadian Citizen's Prison Death Unlikely To Be Reopened
http://gdb.rferl.org/607D60E2-3CF3-47B4-8669-D92F5F279256_w203.gif --> http://gdb.rferl.org/607D60E2-3CF3-47B4-8669-D92F5F279256_mw800_mh600.gif (RFE/RL) July 20, 2007 (RFE/RL) -- An Iranian judiciary official recently admitted to some procedural flaws with investigations into the 2003 death in custody of the Iranian-Canadian photojournalist Zahra Kazemi. But those comments and a recent Supreme Court hearing complaints from Kazemi family lawyers indicate that the case is unlikely to be reopened.
Kazemi died in July 2003 -- perhaps as a result of a vigorous interrogation that included beatings in Tehran's Evin prison -- while in the custody of Intelligence Ministry and judiciary agents.
Her detention and interrogation are believed to have been supervised by Tehran's chief prosecutor, Said Mortazavi. She had been arrested for taking pictures of protesters outside the prison.
The judiciary later acquitted one Intelligence Ministry agent charged with involvement in her death, but this has proved neither satisfactory to Tehran's chief prosecutor's office -- which insists the agent should have been convicted -- or the Kazemi family lawyers, who believe he was a scapegoat and that others, perhaps including Mortazavi, should have been questioned in court.
Lawyers have objected to several aspects of the case. First, they say the judiciary should have been prosecuting a murder case, not Kazemi's "unintentional" killing during interrogation. They add that more people should have been summoned to court, as many people were likely involved in her detention, interrogation, or medical examination inside and outside prison.

'Silence Accomplice To Impunity'
Rights groups have seconded lawyers' demands for a full reexamination of her case. Paris-based Reporters Without Borders (RSF) said on July 10 that the case should be fully reexamined if there is any hope of finding the true culprits in her death, Radio Farda reported.
RSF's Reza Moini told Radio Farda on July 10 that the case should continue to receive publicity, as "silence is an accomplice of impunity" in Iran.
Moini rejected the Iranian government's insistence that there should be no mention of "murder" in relation with the incident. He said that "as [Abdolfattah] Soltani and [other attorneys] have said, this case must start over again. Investigations were not complete and there were many flaws. Injustice has been done to certain people in this case, and claims that this was an unintentional or quasi-intentional killing is basically not the case. This was a murder."
Procedural Flaws
Iran's judiciary disagrees, as indicated by the recent comments of a representative of the Iranian prosecutor-general who attended a July 1-2 session to hear the lawyers' complaints. The session was attended by four lawyers representing the Kazemi party, the attorney of the Intelligence Ministry agent acquitted in earlier trials, the Tehran chief prosecutor's representative, and the prosecutor-general's representative, Yadollah Alizadeh, the daily "Aftab-i Yazd" reported on July 15.
The Kazemi lawyers argued that the Tehran Chief Prosecutor's Office should have investigated a murder. Kazemi, they said, was killed by an "intentional" blow to the head, the daily reported. But, they added, it decided to investigate an "unintentional killing," which determined the course of subsequent proceedings and choice of courts dealing with the case. Instead of the Tehran provincial penal court, the case was sent to a public court the lawyers say was not competent to deal with this case.
Alizadeh's response to the objections indicated that the judiciary admits a procedural flaw, but seems disinclined to reopen the case. He said the lawyers can claim that murder was committed, but only the investigating judge can legally define the offense to be investigated.
Alizadeh said the Tehran Chief Prosecutor's Office had determined the offense to be an unintentional killing, for which it issued an indictment that led to the case's prosecution in the Tehran public and revolutionary courts.
Alizadeh admitted the Prosecutor's Office should have first informed the various parties of its findings on the nature of the offense, before proceeding with subsequent stages. He rejected, however, the legal validity of claims by the Kazemi lawyers that she had been tortured. Even if she had, he said, these claims are not legally valid in a court. Hitting someone on the head, Alizadeh said, does not equate with international definitions of torture.
Alizadeh concluded that the Supreme Court should address the procedural flaw -- the Prosecutor's Office failure to issue a formal statement after its findings on the nature of the offense -- but he effectively rejected the objections of lawyers that the wrong offense had been investigated and the wrong court had investigated the case.
Deeper Questions
Alizadeh said he regretted Kazemi's death, but stated she was an Iranian when in Iran and subject to Iranian laws, and he rejected the interference of rights bodies in the case. The Tehran prosecutor's attorney, however, rejected the acquittal of the Intelligence Ministry agent, insisting he should be convicted of manslaughter.
Alizadeh's comments were made not long before those of another Iranian official, Mohammad Javad Larijani, the head of the Tehran-based Iran Human Rights Headquarters, who spoke in support of the recent stoning of a man convicted of adultery.
The comments by the two officials display an admission of procedural flaws coupled with a complete rejection of any criticism of the way Iran exercises its laws, the nature of those laws, and the treatment Iranian citizens -- or even foreigners or former Iranians -- receive under Iran's justice system.
There is also a rejection, by the refusal to mention it, of the possibility that some cases are not ordinary but considered political -- relating to the state -- and thus far too inconvenient if investigated thoroughly.
The most inconvenient aspect of this case for the government, it seems, are the comments or claims by some domestic and foreign observers on the possible involvement of Tehran's chief prosecutor in a criminal offense.
While Alizadeh's comments show the usual proficiency of Iranian officials in citing laws and engaging in argument, they fail to answer some basic questions about the case, namely, why has the judiciary not sought to question all those who are conceivably involved with or likely have information about Kazemi's death? On a more basic level, someone died while in the custody of the Iranian government and those responsible for the death have not been found. What does Iran's judiciary intend to do about that?
NOT REALLY SO FUNNY:
The Paris-based World Association of Newspapers asked French cartoonist Michel Cambon to produce a series of cartoons on the theme of jailed journalists to mark World Press Freedom Day (May 3). Below, RFE/RL reproduces several of Cambon's cartoons.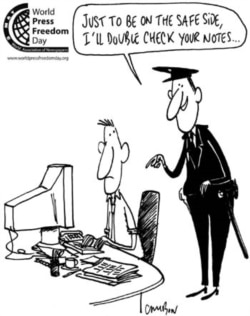 (WAN/Cambon)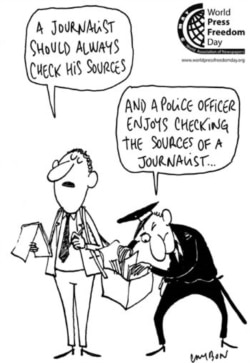 (WAN/Cambon)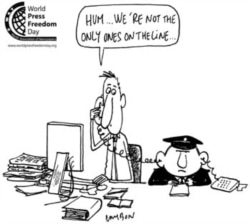 (WAN/Cambon)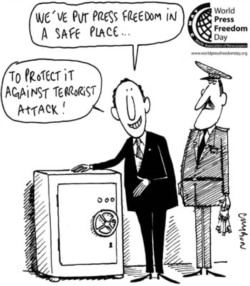 (WAN/Cambon)



RELATED ARTICLES
Threats To Press Freedom Growing More Severe
CIS Press Freedom Suffers Continued Decline
Pressure Mounting On Russian Opposition, Media
Uzbek Government Increases Its Blocking Of News Websites
ARCHIVE
To view an archive of RFE/RL's coverage of media-related stories, click here.
SUBSCRIBE
For regular news and analysis on media issues throughout RFE/RL's broadcast area by e-mail,
subscribe to "RFE/RL Media Matters."