Iran: Radio Farda -- Proxy Battle To Counter Internet 'Filtering'
By Niusha Boghrati http://gdb.rferl.org/AA5B5A3C-9927-409C-81E1-31471DF77623_w203.jpg --> http://gdb.rferl.org/AA5B5A3C-9927-409C-81E1-31471DF77623_mw800_mh600.jpg Filtered cafe (file photo) (epa) July 24, 2007 (Radio Farda) -- It is among the most familiar phrases to the roughly 8 million-11 million web surfers in Iran, the second-largest Internet user in the Middle East behind Israel.
"You Are Not Authorized To View This Page!"
More than 10 million websites are currently being "filtered" in Iran, according to the state Information Technology Company.
The range of blocked websites includes a handful of pornographic, political, or human rights-related addresses and even some forum websites.
Underground Countereffort
At a time when the country suffers from what human rights defenders describe as a severe "information crackdown," a group of young Iranians inside the country is determined to battle the dominant policy of online censorship imposed by the Iranian leadership.
The group Iran Proxy is formed by some Iranian youngsters who believe that this "new dictatorial barrier" must be fought from inside of the country -- and that they must remain underground to be able to do so.
Iran Proxy describes itself as the first anti-filtering group inside Iran. It says it is focused on introducing and promoting simple -- and yet technologically advanced -- ways of helping Iranian users skirt web filters.
"Iran Proxy tries to teach to the Iranian users the advanced methods of getting around this new dictatorial barrier, which is the result of false policies of governments and religious extremists, in a simplified and understandable way through publication of a series of articles, one of the underground group's members tells Radio Farda on condition of anonymity. "We also plan to introduce the new anti-filter software and proxies to users."
Iran Proxy has so far created tens of proxy websites with search ability and also featuring fixed links to news websites that are currently being blocked by the Iranian government. The proxies, which get updated constantly and can be e-mailed to users, help surfers to enter the restricted pages.
International Critics
Reporters Without Borders ranks Iran's press situation as "very serious," the worst ranking on the nongovernmental group's five-point scale. Iran's Internet censorship policy is described as "pervasive" by the OpenNet Initiative's global Internet-filtering map, the worst ranking it assigns to countries.
"According to the results of the worldwide research carried out between the years 2004 and 2005 by the OpenNet Initiative, Iran was filtering around 30 percent of the target websites," Iran Proxy tells Radio Farda. "The results revealed that Iran was practicing one of the strictest methods of Internet filtering."
The filtering in Iran primarily focuses on Persian-language websites, including numerous weblogs. In recent years and under circumstances in which writers, activists, and others complained of the absence of a free speech platform in the country, the phenomenon of blogging quickly found a place among the growing number of Iranian web surfers.
Rising Demand Meets With Official Intolerance
Weblogs rapidly earned a reputation as an electronic replacement that featured two basic and necessary characteristics of the desired political and social platforms for Iranians: capability to interact and security. The popularity of the platform reached a point that -- with around 700,000 enthusiast writers -- Persian language has become the fourth most-blogged language on the Internet.
But tolerance for the new phenomenon did not last long.
"As for the Persian websites, the blocked-pages figure totals something above 50 percent."
Shahram Rafizadeh, Sina Motallebi, Arash Sigarchi, Mojtaba Sami Nejad, Ruzbeh Mir Ebrahimi and Omid Memarian were among the journalists and bloggers who were arrested and prosecuted for their online writings. Along with the suppression, limitations were imposed on accessing websites, most of which included Persian news and analytical websites and weblogs.
"The statistics provided by OpenNet's research back in 2004 and 2005 showed that around 5 percent of English news websites were blocked at the time," an Iran Proxy member says. "As for the Persian websites, the blocked-pages figure totals something above 50 percent. Access to 100 percent of the pornographic websites and 95 percent of the proxy websites are restricted, too. This, of course, [was the case] three years ago."
Two-Way Superhighway
Many Iranian officials have strongly defended the concept of "having control over the Internet" by highlighting what they described as the "necessity of preventing the access to pornographic sources." That point, which might win the support of concerned parents, later got overshadowed by features of the later versions of the Microsoft Windows operating system that provide its users with a chance to arrange their own restrictions and basically rule out the need for any external monitoring.
However, the new facilities to block pornography do not appear to have had much impact on Tehran's determination to keep -- and even broaden -- its surveillance over the use of the World Wide Web.
"In recent months, the Iranian state-run telecommunications center has begun the launch of an entirely new filtering system that includes a software robot able to observe viewed web pages and block them after drawing a comparison with the defined algorithms," Iran Proxy tells Radio Farda. "The new supervision system has got additional features that add to the country's filtering ability," the source adds. "The ability to block pages that link to filtered websites is one of the features of the new method that is currently being applied. Given these facts, if OpenNet repeats the research now, it will encounter blocking results so much higher that they might even be unimaginable."
In one of its latest unexpected policy actions, Iran's Internet service providers (ISPs) have been banned since late 2006 from providing Internet connections faster than 128 kilobytes per second (kbps) to homes and cafes. It is a move that critics regard as part of a media clampdown.
Experts believe that the decision is much broader in scope than the previous policy of suppression. It can also be considered among the first times that the Iranian government has openly denied its people access to "technology" in favor of censorship.
Human rights groups accuse Iran of launching an accelerating crackdown on information sources, including the Internet, in an effort to silence critics. They charge that the process has intensified since Mahmud Ahmadinejad became Iran's president two years ago.
Tehran denies the charges.
(with contributions by Radio Farda's online staff)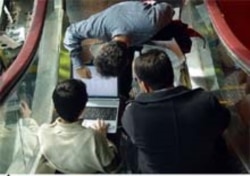 BLOCKED SITES: Iran's state Information Technology Company announced in September 2006 that more than 10 million websites were being "filtered" in Iran. They included the following, organized by category.
Forums, Sharing, and Entertainment:
The Google-owned Internet social network system www.orkut.com
The video-sharing website www.youtube.com
The photo-sharing website and web services www.flickr.com
The Kurdish version of Wikipedia's online encyclopedia www.en.wikipedia.org/wiki/Kurdish
Social and Human Rights:
London-based www.amnesty.org, one of the world's leading human rights defenders
New York-based Human Rights Watch www.hrw.org, also one of the leading human rights defenders in the world
The Paris-based Reporters Without Borders www.rsf.org, a leading media watchdog
The official website of the Tahkim Vahdat Organization, the largest reformist university organization in Iran www.advarnews.us. The group covers news concerning student activism in Persian
The www.gozaar.org website, a monthly Persian-English journal devoted to democracy and human rights
The www.meydaan.com website, a Persian site dedicated to women's rights and activism in Iran
News and Politics:
The Prague- and Washington-based www.radiofarda.com, a joint venture of RFE/RL and VOA covering news in Persian
The Persian service of the London-based BBC www.bbc.co.uk/persian
The Persian service of the Washington-based Voice of America www.voanews.com/persian
The Amsterdam-based www.radiozamaneh.com, which covers news in Persian
The pro Islamic Republic Tehran based www.baztab.ir covering political and social issues
Brussels-based www.gooya.com, featuring articles by journalists and political figures
The Amsterdam-based daily journal www.roozonline.com, which features articles and interviews in Persian and English
Weblogs:
The Google-owned blog publishing system www.blogger.com
The Harvard-based www.globalvoicesonline.org, a blog that summarizes events in the blogosphere in every corner of world
Numerous personal weblogs from around the world, both in Persian and English, with different views and focusing on different subjects including:
www.doomdam.com (satirical blog)
www.kosoof.com (photo blog)
(source: Radio Farda)