Kabul Denies Report Of Operation To Free Korean Hostages
http://gdb.rferl.org/63843901-6F60-4849-BAEE-AE780F92875B_w203.jpg --> http://gdb.rferl.org/63843901-6F60-4849-BAEE-AE780F92875B_mw800_mh600.jpg A protester calls for the hostages' safe return and the withdrawal of South Korean troops (AFP) August 1, 2007 (RFE/RL) -- The Afghan government says security forces have been deployed in Ghazni Province for an operation against Taliban militants, but authorities deny reports that the operation has begun and say there are no plans for operations aimed at freeing 21 South Korean hostages held by militants there.
Afghan Interior Ministry spokesman Zemari Bashari today told RFE/RL's Radio Free Afghanistan that police are in the area, but no action to free the hostages has been launched.
"There is no plan for such operations in the near future. We are trying to solve the problem through negotiations. And for this purpose we are using the services and help of tribal chiefs and elders," Bashari said.
The head of the Afghan government's negotiating team on this hostage crisis, Wahidullah Mujadidi, told RFE/RL's Radio Free Afghanistan that negotiations continued for three hours today beyond the Taliban's latest deadline without progress.
Mujadidi said he had heard media reports of a government offensive under way in Ghazni today. But he said he could not confirm those reports. He also warned that any military operation against the Taliban in that area would complicate the sensitive negotiations.
Afghan Defense Ministry spokesman General Mohammad Zahir Azimi said military helicopters dropped leaflets in the area today, warning civilans that a military offensive would start there soon. But Azimi said those leaflets refer to what he called a "routine operation which will be launched in coming weeks."
Local officials in the Qarabagh district of Ghazni Province, where the South Koreans were seized, said Afghan troops appear to have massed in Ghazni Province for an operation.
Qarabagh district chief Khowja Seddiqi had said the operation was launched today, but he gave no further details about who was involved.
Media reports of a military operation began to appear just hours after the expiration of the latest in a series of Taliban deadlines for their demands to be met.
Taliban Demands
The latest deadline set by the Taliban to free imprisoned militants in exchange for the hostages expired earlier today with no reports on the fate of the hostages.
The Taliban kidnapped 23 South Korean aid workers on July 19. On July 31, the blood-stained body of the second hostage killed was found, a week after the leader of the group was killed.
A Taliban spokesman reportedly said on July 31 that two female hostages were seriously ill.
The Afghan government has rejected the mililtants' demands for the release of Taliban prisoners. A spokesman for Afghan President Hamid Karzai said that bowing to Taliban demands would encourage more kidnappings. He also said "we are doing what is the best for the interests of the hostages, and the government."
The relatives of the hostages and South Korean lawmakers pleaded with the United States today to intervene and help secure the release of the remaining captives.
Seoul officials say the Taliban militants have been in touch with the South Korean government through the country's embassy in Kabul. Seoul has called for "flexibility" to resolve the standoff, a comment analysts say is mostly directed at Washington to pressure Afghanistan to strike a deal.
South Korea has sent a special envoy to Kabul, who has held talks with Afghan officials including Karzai.
New York-based Human Rights Watch has called on the Taliban to release the hostages, and said the abductions show the Taliban's "contempt for human life and disregard for the laws of war."
Separate Hostage Crisis
Meanwhile, the Qatar-based Al-Jazeera television station has broadcast a video showing a man it says is a German hostage still being held by Taliban militants in Afghanistan.
Al-Jazeera said the hostage, who is shown surrounded by armed and masked men, was appealing to the German government to withdraw its troops from Afghanistan to secure his release.
The video also showed four Afghans who Al-Jazeera said were kidnapped with the German.
Two German aid workers were kidnapped with their Afghan colleagues on July 18. The bullet-ridden body of one of those hostages was discovered on July 22 after the Taliban announced they had executed him. But German officials said it was unclear whether the hostage was shot after he died of a heart attack.
(compiled from RFE/RL's Radio Free Afghanistan and agency reports)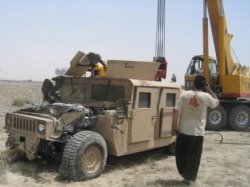 A U.S. military vehicle damaged by insurgents near Kandahar (epa)
HOMEGROWN OR IMPORTED? As attacks against Afghan and international forces continue relentlessly, RFE/RL hosted a briefing to discuss the nature of the Afghan insurgency. The discussion featured Marvin Weinbaum, professor emeritus of political science at the University of Illinois at Urbana-Champaign, and RFE/RL Afghanistan analyst Amin Tarzi.
LISTEN
Listen to the entire briefing (about 83 minutes):
Real Audio
Windows Media
ARCHIVE
RFE/RL's
coverage of Afghanistan
.
SUBSCRIBE
For weekly news and analysis on Afghanistan by e-mail,
subscribe to "RFE/RL Afghanistan Report."