Taliban Releases 12 Of 19 South Koreans
http://gdb.rferl.org/03D9AA65-6A8E-4783-8A93-CD47B9636053_w203.jpg --> http://gdb.rferl.org/03D9AA65-6A8E-4783-8A93-CD47B9636053_mw800_mh600.jpg One of the three freed women is assisted by an ICRC worker (AFP) KABUL, August 29, 2007 (RFE/RL) -- Taliban militants in Afghanistan have released 12 South Korean hostages today under a deal between the Taliban and the South Korean government.
Seven South Koreans were still being held late today from among the original group of 23 hostages abducted from a bus traveling in Ghazni Province on July 19.
Hajji Zahir Kharoti, an Afghan tribal elder and mediator who transported the first three hostages released to the Red Cross today, told RFE/RL's Radio Free Afghanistan it would be impossible to free all of the hostages before August 30.

"They are in remote areas, and [the Taliban] does not have the ability to bring them all together and release all of them [today]," he said.
Gradual Release
The first group to be freed today comprised three women. They were handed over in the morning to the International Committee of the Red Cross (ICRC) at the village of Qala-e Kazi, in Ghazni Province to the southwest of Kabul. ICRC representative Craig Muller said they appeared to be in good physical health. Correspondents report that the women were wearing colorful head scarves and appeared to be weeping as they were bundled into Red Cross vehicles.
Taliban spokesman Qari Bashari informed Radio Free Afghanistan by telephone from an unknown location when the second group -- four other women and a man -- was released in the early afternoon.
Bashari and Kharoti both told Radio Free Afghanistan that the third group to be freed today included three women and one man.
Foreign Targets
The releases today were expected to be followed by the release of the rest of the 19 captives who were the subject of a deal reached on August 28 between the Taliban and the South Korean government.

The Taliban seized 23 South Korean Christian aid workers in Ghazni Province on July 19.
The captors killed two male hostages in July to press their demands and freed two sick female hostages in August.
Cha Sung-min, a spokesman for the families of the South Korean hostages, recalled once the deal was announced that not all of those abducted were allowed to return to their relatives.
"We're heartbroken because we feel very sorry for the victims, Shim Sung-min and pastor Bae Hyung-kyu, who were killed," Cha told Reuters in Seoul.

In return for the releases, the South Korean government has promised to pull out its 200 troops in medical and engineering units from Afghanistan by the end of the year -- something it already was scheduled to do. Seoul also says it will ban missionary activities by South Koreans in Afghanistan.

South Korean missionary organizations have said they will end their operations in Afghanistan -- including humanitarian relief work -- to comply with the deal.
"So that the hostages will be released safely, we would abide by the request of the Taliban to stop missionary works in Afghanistan, which is one of the conditions for the release," Hwang Phil-kyu, a pastor with the National Council of Churches in Korea, told Reuters in Seoul today.

Both the Taliban and the South Korean government have denied that any money was paid out for the release.
(RFE/RL's Radio Free Afghanistan correspondents Dawa Khan Menapal in Qalat and Asmatullah Sarwar in Prague contributed to this article.)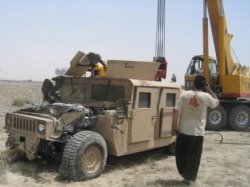 A U.S. military vehicle damaged by insurgents near Kandahar (epa)
HOMEGROWN OR IMPORTED? As attacks against Afghan and international forces continue relentlessly, RFE/RL hosted a briefing to discuss the nature of the Afghan insurgency. The discussion featured Marvin Weinbaum, professor emeritus of political science at the University of Illinois at Urbana-Champaign, and RFE/RL Afghanistan analyst Amin Tarzi.
LISTEN
Listen to the entire briefing (about 83 minutes):
Real Audio
Windows Media
ARCHIVE
RFE/RL's
coverage of Afghanistan
.
SUBSCRIBE
For weekly news and analysis on Afghanistan by e-mail,
subscribe to "RFE/RL Afghanistan Report."