Chechnya: In Video, Separatist Leader Declares 'Jihad' On West
http://gdb.rferl.org/BAF3C8D0-32CB-421A-9F91-23A908FCA838_w203.jpg --> http://gdb.rferl.org/BAF3C8D0-32CB-421A-9F91-23A908FCA838_mw800_mh600.jpg Doku Umarov in a still from his video (RFE/RL) November 1, 2007 (RFE/RL) -- In a video sent to RFE/RL, the Chechen separatist leader, Doku Umarov, says he has extended his movement's battle against Russian security forces to include a broader "holy war" against the United States, Britain, and Israel.
The remarks by Umarov, the president of the self-declared Chechen Republic of Ichkeria (ChRI), were immediately condemned by some senior fellow separatists, who expressed concern that Umarov had fallen prey to a plot by the Russian intelligence services aimed at discrediting and splitting up the Chechen resistance.
Umarov also declared himself "emir of the North Caucasus" in the 16-minute video, which appears to have been made earlier this month but was sent only recently to RFE/RL's North Caucasus Service. "All those waging war against Islam and Muslims are our enemies," Umarov said in the video, which shows him against a backdrop of a black flag with white Arabic inscriptions.
Aslan Doukaev, the head of the North Caucasus Service, said Umarov's remarks highlight a deepening rift within the separatist movement.
"The separatist movement has split into two big camps," Doukaev says. "One is the separatist nationalist camp, whose leading figures are Akhmed Zakayev and other moderate nationalists in the Chechen separatist movement. On the other hand, this statement is supported by the most radical part of the Chechen resistance, those we call the jihadists, or Islamists."
Indeed, some analysts say Umarov's remarks reflect the emergence of younger, extremist militants who in past years have contributed to a radicalization of the movement.
But Akhmed Zakayev, the ChRI's London-based foreign minister-in-exile, doesn't take that view.
In remarks carried by the chechenews.com website on October 22, Zakayev claimed that Russian authorities were planning to infiltrate Umarov's entourage and persuade him to declare himself emir of a North Caucasus emirate and to declare war on the West in the name of the region's Muslims.
Zakayev suggested that the rationale behind those plans was to further smear the Chechen cause in the court of international public opinion. That, he said, would give the Kremlin freer rein to deploy more forces to the North Caucasus under the pretext of fighting Al-Qaeda and dealing a death blow to the independent ChRI.
After RFE/RL received the video on October 29, Zakayev reacted by saying that the ChRI government can no longer support Umarov and should henceforth report directly to the separatist parliament, as should the armed forces.
"We should do everything in our power to prevent a split within the ranks of the Chechen resistance," he declared in remarks carried by the same website.
Zakayev also expressed regret that Umarov, whom he characterized as "a talented and adamant fighter," had caved in to pressure from "provocateurs," distanced himself from his responsibilities as president, and committed a "crime" that undermines the legitimacy of the ChRI.
(RFE/RL analyst Liz Fuller and RFE/RL correspondent Claire Bigg contributed to this report.)
For more on the Chechen separatist movement, see RFE/RL's analysis, Is North Caucasus Resistance Still Serious Threat?

Islam In The North Caucasus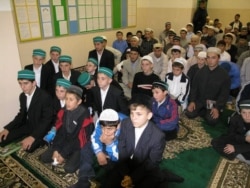 Madrasah students in Khasavyurt, Daghestan (RFE/RL file photo)
SIMMERING TENSIONS: Fatima Tlisova, former North Caucasus editor for the Regnum news agency and a former North Caucasus-based freelancer for RFE/RL, AP, and others, told an RFE/RL briefing that the Russian government is cracking down hard on mosques and Islamic organizations throughout the region.
LISTEN
Listen to the entire briefing (about 70 minutes):

Real Audio
Windows Media
RELATED ARTICLES
Filmmaker Documents Chechen Villagers' Sad Fate
Rights Activist Discusses Difficulties Of Working In Chechnya
Ministry Admits Chechen Resistance Still Poses 'Serious Threat'


RFE/RL's complete coverage of Russia's war-torn Republic of Chechnya.
CHRONOLOGY
An
annotated timeline
of the Chechnya conflict.