Russia Accuses West Of Double Standards In Syria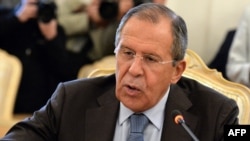 Russian Foreign Minister Sergei Lavrov has accused the West of "double standards" in Syria regarding its stance on the war against terrorism, saying that the U.S. has refused to condemn "specific acts of terrorism" in Syria.
Speaking in response to a question about Ankara's call for a ground operation against IS in northern Syria, Lavrov hinted that the U.S.-led coalition against IS is aimed at more than just destroying the extremist group.
The Russian Foreign Minister warned that the West is "not allowed to use the slogan of the war on terror to carry out regime change," a reference to the allegation that the U.S. is using air strikes against IS as an opportunity to also weaken the Assad government.
Lavrov reiterated Moscow's position that any international action in Syria should be carried out only with the express permission of the "legitimate authorities" -- in other words, the Assad government.
"We've already talked about our attitude towards the declaration of the coalition to fight IS. We believe that any action that is taken to combat the Islamic State, as with any other terrorist organization, should be based on the solid ground of international law. and, above all, must be carried out with the consent of the legitimate authorities of the states on whose territory such a terrorist threat exists," Lavrov said, according to TASS.
Lavrov has previously slammed the U.S. for helping the Iraqi government fight IS but refusing cooperation with Assad, who Russia says is "fighting the same group of bandits."
Lavrov ended his comments on an ostensibly positive note, saying that Russia's "Western partners" had now realized that they could not "sacrifice the international community in order to overthrow this or that regime. This is a positive signal," he added.
As Assad's staunchest ally, Moscow's line on IS has been to consider the Islamic State as just another group within the Syrian armed opposition, all factions of which -- including the Western-backed Free Syrian Army -- Russia considers to be illegal Islamist terror groups. Previously, Moscow has called on what it terms "Syrian patriots" to unite against the entirety of the armed "terrorist" opposition and return Syria to what Lavrov has dubbed a "multi-religious state." As part of this position, Moscow has used the term "Free Syrian Army" as a catch-all phrase to refer to the Syrian-armed opposition. Russia has even alleged in official indictments issued by state prosecutors against Russian citizens accused of fighting in Syria, that these young jihadis were recruited by and fought with the Free Syrian Army.
While the U.S.-led coalition strikes against IS, and against Jabhat al-Nusra in Aleppo, could benefit Assad, Moscow's concern is that the U.S. is attempting to destroy or neutralize IS and other Islamist groups while boosting Free Syrian Army factions against Assad's forces. Moscow is also concerned about the large numbers -- certainly hundreds -- of Russian-speaking jihadis mostly from the North Caucasus, who have joined the Islamic State and other Islamist factions, one of which (Jaish al-Muhajireen wal-Ansar, recently blacklisted by the U.S. government) considers itself the Syrian branch of the Russian terror group the Caucasus Emirate.
"Any action taken to combat IS must be based on international law and be agreed by the authorities."

Russia's Foreign Ministry cited Lavrov as saying that the West's position on IS "contradicts previously agreed principles: terrorism cannot be justified, wherever and whoever commits terrorist attacks," a reference to Moscow's position that the Western-backed FSA are committing terror attacks against pro-government forces and civilians.