Afghan President Vows To Stay In Office Till Polls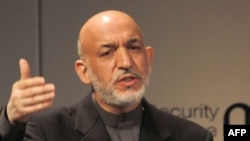 KABUL -- Afghan President Hamid Karzai has said he will stay in office until presidential elections are held, whether that is in August as dictated by the national consensus or in April as prescribed by the constitution.
"As long as there is no election, the president will stay in office," Karzai said. He suggested that his remaining in office beyond the stated end of his term on May 21 to avoid a caretaker-style government was "a constitutional solution and a solution based on national consensus."
"The constitution does not say anything about any provisional government," Karzai added. "If I continue after May 21, I have to be a legitimate [president]. If I am not a legitimate [president], my tenure would end. And according to the [constitution] there is a condition for the end of the president's term: a new president has to be elected to take over from the current president. The president, the government, should be elected only by the people's vote, the people's will, not by political decisions or by candidates."
The Afghan political scene has been thrown in turmoil over the constitution dispute, which threatens to undermine faith in the young system as it struggles to combat a resilient Taliban insurgency that is growing in both size and scope.
The election commission has insisted that polls cannot be held until August 20, as they could not be organized during the winter and extra security forces cannot be in place until then.
RFE/RL's Radio Free Afghanistan Deputy Director Hashem Mohmand lays out the arguments against holding elections before the current presidential term expires, despite its implications for Karzai supporters and opponents alike:
The president said the national consensus was for polls to be held in August and opposition leaders either had to accept that or accept polls next month. "I am calling for all sides to agree on the national consensus. We must respect the national consensus and stand by it and let the commission prepare for the election," Karzai said.
The United States supports the August election date and is sending 17,000 extra troops to Afghanistan who should be in place to help secure the polls, particularly in the volatile south.
The election is the key test of progress for Afghanistan this year, diplomats say, which if carried out successfully could eclipse other failures but whose failure could eclipse other successes in the war-torn country.
Many of Karzai's rivals worry the president is preparing to use the power of government to gain an unfair advantage in the poll and either want him to stand aside in May or give some concrete guarantee he will not use his office to campaign.
Rising insecurity and rampant corruption have left Karzai increasingly unpopular, but with many deals still being cut behind the scenes between the country's political power brokers, a second term remains a possibility.
compiled from Reuters and other reporting