Baku Police Detain 50 Protesters During Flower Festival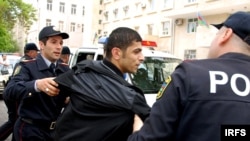 More than 50 mainly young people were detained in Baku for several hours during the annual Flower Festival, RFE/RL's Azerbaijani Service reports.
The official festival marked the 86th anniversary of the birth of the country's late President Heydar Aliyev with flowers, fireworks, and festivities. But young Azeris took to the streets to protest against the celebration, calling it inappropriate in the wake of the April 30 attack on the Azerbaijan State Oil Academy in Baku that left 13 dead.
The young Azeris, members of different youth and student groups, were calling for a National Day of Mourning to be held in honor of the students and teachers who were killed in the shooting attack carried out by an ethnic Azeri from Georgia.
RFE/RL's Azerbaijani Service reports that the peaceful protest was organized through Facebook and other online social networks.
Some of the protesters were wearing black ribbons, some were whistling, and others were holding the pictures of those who died in the April 30 shootings.
Video: Protesters chant "No to terror!" and "No to Flower Day!" as police lead away some members of the group.
"We gathered in front of the main park where the main celebration was going on, and we were just holding two flowers in our hands," said Emil Milli, one of the founders of the AN youth network, which organizes forums and wide-ranging discussions. "In Azerbaijani tradition you bring two flowers for the dead when you go to their graves. We were just sitting very silently, saying nothing, we were not chanting any slogans, we were just mourning, silently."
During their protest, Milli and some fifty other people were detained by police who reportedly used force. All of them were released after spending several hours in detention.
Milli, who spoke to RFE/RL while being held at a Baku police station, said that police officials did not tell him and the others why they had been detained.
Milli said that he and many other Azeris feel that this year's festivities were deeply inappropriate, coming on the heels of the deadly shooting.
"It hurts the feelings of many people here, because many people think it's not appropriate not to declare even one day of mourning, and instead celebrating the Flower Festival. It's very insulting and very depressing," he said.
A group of young Azeris had called for a national day of mourning immediately after the shooting attack, holding a small demonstration in front of the State Oil Academy on May 1.
On May 10, two members of the National Democratic Institute (NID) in Azerbaijan, including NID director Arjen de Wolff, were among those detained at the peaceful protest. They were also later released.
The police confirmed the detention of 30 activists. A police official said that some of the youths were detained because they didn't have proper identification.
Azerbaijani Minister of Youth and Sports Azad Rahimov expressed support for the actions of the police, and told reporters, "It was said that there should be no gatherings."
Terry Davidson, a spokesman for the U.S. Embassy in Baku, expressed concern about the "credible eyewitness reports" that some of the young people were injured during the police crackdown.
Pointing to freedom of assembly and freedom of speech as the hallmarks of a democratic society, Davidson quoted late President Heydar Aliyev as saying, "Everyone must be able to respect others' ideas and benefit from them."
The head of the Baku bureau of RFE/RL's Azerbaijani Service, Khadija Ismayilova, contributed to this report