Georgian Police Ratchet Up Pressure On Oppositionist Burjanadze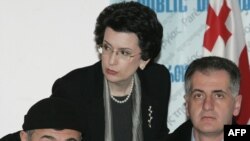 For the third day running, police in Georgia have presented videotaped evidence purportedly implicating opposition activists in illegal arms purchases and organizing politically motivated violence.
Most of those under suspicion are connected to former parliament speaker Nino Burjanadze's Democratic Movement-United Georgia (DMES) party.
Burjanadze continues to deny the allegations, which come in the run-up to a major opposition protest scheduled for April 9 and amid persistent opposition demands for President Mikheil Saakashvili's resignation.
Interior Ministry spokesman Shota Utiashvili told RFE/RL's Georgian Service that the investigation is not targeting any political figures.
"We do not connect [these arrests] with any political leader or political party," Utiashvili said. "These are certain groups of people who, according to our evidence, did purchase weapons -- moreover, automatic weapons in large quantities."
One video released on March 25 purportedly shows Zurab Avaliani, the head of the Adjara branch of Burjanadze's DMES party, and David Gogrochadze, another DMES activist from Adjara, with two unidentified men in a restaurant discussing mobilizing supporters against the government. "We may need to open fire," one voice is heard to say.
Avaliani and Gogrochadze were among the 10 people who were arrested in connection with the scandal on March 23.
The second video shows another man purportedly from the DMES Adjara office examining automatic weapons and a sniper rifle.
The third video was reportedly filmed with a hidden camera in a Tbilisi DMES office. In it, one person identified by police as a party official is heard to say "civil war is in our interest" and, later, "Can you imagine how these people hate Misha (presumably President Saakashvili)? They are ready to start a war just to see Misha go away."
The new information implicating Avaliani came just hours after Burjanadze appeared on a late-night talk show on Georgian Public Television and asserted that Avaliani is "the main person" at the heart of the scandal. She maintained that he was being framed by Georgian security personnel and said there are witnesses who saw police planting weapons in Avaliani's apartment.
"When yesterday morning the head of our regional office in Adjara was detained, I think all other participants in that show were detained to justify the existence of the weapons that were -- quote -- found -- unquote -- in Zurab Avaliani's apartment. Although no information was released concerning Avaliani himself," Burjanadze said.
Burjanadze also claimed that another senior party official, whom she did not identify, had been approached with an offer to purchase weapons in what she portrayed as an effort to entrap him.
In this video released by the Interior Ministry on March 24, opposition figure Malkhaz Gvelukashvili discusses an apparent plot to take over a building, possibly parliament.

Avaliani played a key role in the dispute last year that led Burjanadze to break away from Saakashvili's ruling party. She wanted to let Avaliani run as the party's candidate for a single-mandate district in the May 2008 parliamentary elections, but Saakashvili rejected this proposal, prompting the split.
Avaliani's lawyer, David Khomeriki, told RFE/RL on March 25 that it was too early for "assessments" but said that his client was being held under good conditions and denied the charges against him.
"It is a criminal case, and we are dealing with either a crime or its absence -- the investigation is under way and we will see which it is," Khomeriki said. "The accused are denying the charges. They have now been placed in pretrial detention for two months."

Standing By The Speaker
Opposition figures continued their general support for Burjanadze, charging that the allegations are politically motivated.
Levan Gachechiladze, a prominent businessman who was the united opposition's presidential candidate against Saakashvili in a preterm election last year, told reporters on March 25 that the government's actions are not new.
"These are methods that, in my opinion, Saakashvili has used many times already," Gachechiladze said. "I would like to remind you that last year nearly the entire security service of [the late Georgian tycoon and opposition figure] Badri Patarkatsishvili was arrested in the pre-election period and the accusations were exactly the same: namely, that Patarkatsishvili and his entourage were planning a civil war."
Irakli Alasania, head of the Alliance for Georgia opposition movement and the country's former ambassador to the United Nations, told journalists in the eastern city of Kakheti on March 25 that his party renounces violence.
"The political movement that we are leading intends to achieve a change of government by peaceful, constitutional, well-considered steps, together with the people," Alasania said.
The embattled Burjanadze met in Tbilisi on March 25 with Matyas Eorsi, the Parliamentary Assembly of the Council of Europe rapporteur for Georgia, to discuss the unfolding scandal.
"I provided [Eorsi] with information and documentation so that he can double-check many of the facts on his own and I also stressed once again that if any member of my party or any other party is involved in any illegal activities -- and this is proven -- then, of course, nobody should try to protect them."
For his part, Eorsi expressed hope that the opposition demonstration scheduled for April 9, the 20th anniversary of the crushing by Soviet troops of an independence demonstration in Tbilisi, will come off without violence.

Written by RFE/RL correspondent Robert Coalson with contributions by RFE/RL's Georgian Service