In Kazakh Settlement, Little Hope For Squatters
On July 27, police arrived at Saniya Samsaqova's home in the Shanyraq district, the largest squatter settlement in Almaty, Kazakhstan. They asked her husband Arman to come with them to fill out paperwork.
That turned out to be a ruse. Once the man of the house was out of the way, police returned with a bulldozer, forced Samsaqova out of her home, and demolished it.
RFE/RL Kazakh Service correspondent Yermek Boltayev visited the Shanyraq settlement on the outskirts of Almaty and interviewed Samsaqova and her family. He filed this video, which includes a segment recorded by Samsaqova herself as police arrived to evict her.
The family's story is not an unusual one in the Shanyraq settlement. Since the early 1990s, thousands of people, mostly from Kazakhstan's rural regions, have settled there in makeshift houses on land that no one else claims. Shanyraq hosts some 4,500 illegally built homes by official counts, and an unknown number of residents.
Kazakhs have debated for years over whether the squatters should be given legal rights to the land where they live. Some residents of Shanyraq claim rights to their property because they bought their homes from previous residents. Others paid for documents from local officials authorizing their stay there, only to learn that the papers were fraudulent.
Kazakh authorities moved to clear the settlement in June 2006, leading to clashes with residents in which one police officer was killed. Since then, there has been little political will to resolve the issue.
But in recent months, police and demolition workers have returned to Shanyraq carrying court orders authorizing the destruction of illegally built homes.
It remains unclear whether any political or economic motivation has prompted the Kazakh establishment to crack down on the settlement. But for the squatters themselves, it seems certain that there is little recourse or hope for assistance.
-- Margot Buff/Kazakh Service
About This Blog
"Watchdog" is a blog with a singular mission -- to monitor the latest developments concerning human rights, civil society, and press freedom. We'll pay particular attention to reports concerning countries in RFE/RL's broadcast region.
Journalists In Trouble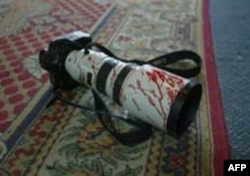 RFE/RL journalists take risks, face threats, and make sacrifices every day in an effort to gather the news. Our "Journalists In Trouble" page recognizes their courage and conviction, and documents the high price that many have paid simply for doing their jobs. More