In Pakistan, Six Killed In Attack On Sri Lankan Cricket Team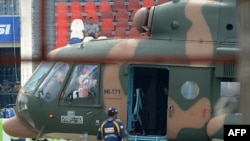 Unidentified gunmen have attacked a bus carrying Sri Lanka's national cricket team to a stadium in Lahore, where they had been scheduled to play the third day of a match against Pakistan.
Five policemen and one bus driver were killed, while five players and one coach were wounded.
Before the attack, Sri Lanka had been the only national cricket team willing to travel to Pakistan.
The incident marks the first major attack on an international sports team since Palestinian militants attacked Israeli athletes at the 1972 Olympics in Munich.
Lahore police chief Habib-ur-Rehman said the police officers were killed when unidentified gunmen fired AK-47s and rockets and hurled grenades at the bus carrying the athletes and coaches as it slowed at a traffic circle near Gaddafi Stadium.
The 60,000-capacity arena, in the heart of Lahore, is a famed South Asian cricket venue.
The attackers and police exchanged fire for nearly 15 minutes, some of it captured on video by witnesses. (Reuters video)
A spokesman for the Sri Lanka High Commission in Islamabad said that five players and assistant coach Paul Farbrace, a Briton, were wounded.
"They came to the spot. They were properly masked. They were armed with rocket launchers," an unidentified Pakistani police commander quoted by Reuters told journalists in Lahore. "They were armed with hand grenades and Kalashnikovs, and they started firing on the Sri Lankan team."
Sri Lankan team captain Mahela Jayawardene said the gunmen first shot at the tires and then at the bus itself. The driver said one attacker threw a grenade under the bus but it failed to detonate. The driver of a bus following behind, carrying the Australian umpires, was killed.
The team, including the wounded, was evacuated by helicopter and will return home soon.
Sri Lankan Foreign Minister Rohitha Bagollagama, speaking in Kathmandu, Nepal, called it a sad day for the sport.
"That's a sad day for cricket. And, above all, we from Sri Lanka condemn all forms of violence and particularly when violence is directed at a sporting team and a national team that is renowned," Bagollagama said. "We are further saddened by this unfortunate incident."
Police say none of the attackers were killed or captured, and their whereabouts remained unclear.
Sherry Rehman, the federal minister for information and broadcasting, said the attack was aimed at harming Pakistan's reputation.
Speaking to journalists in Lahore, Raja Riaz Ahmad, a senior leader of the governing Pakistan Peoples Party (PPP), also linked the attacks to a wider conspiracy against his country.
"On the international level, some countries, of which India is at the top, want to malign Pakistan's image so that it can be declared a terrorist state," Ahmad said, according to Reuters. "But we, together with the country's leaders, the prime minister, and President Asif Ali Zardari -- we are ready in the war against terrorism. We will fight it and win the war against terrorists by throwing them out of our country. And only then will we rest."
The Sri Lankan team had accepted an invitation to visit Pakistan after India canceled a planned tour of the country in the aftermath of the November 26-29 attacks that killed some 170 people in its financial capital, Mumbai.
"No cricket team is coming to Pakistan [following this attack]," Lahore-based rights activist Zaman Khan said. "The Sri Lankans were very kind to come and visit Pakistan. The government should have taken extra security measures."
Zaman Khan added the incident should push the government and opposition to put an end to their wrangling and work together to address the concerns of citizens, particularly security.
Indian Interior Minister Palaniappan Chidambaram called the attack a "shocking" incident and security lapse. "It's quite clear that the security for the Sri Lankan cricket team is hopelessly inadequate," Chidambaram said. "We condemn that incident."
Sri Lankan President Mahinda Rajapaksa condemned the incident in a statement as a "cowardly terrorist attack." He emphasized that his country's cricketers were visiting Pakistan "as ambassadors of goodwill."
Meanwhile, international cricket officials say they will review plans for the 2011 cricket World Cup, following the attack. Pakistan, along with India, Sri Lanka, and Bangladesh, had been scheduled to jointly host the event.
compiled from news agency reports