Obama Campaign Manager Backtracks On Visit To Azerbaijan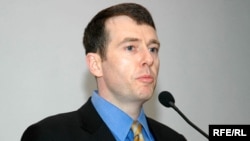 (RFE/RL) -- David Plouffe, the manager for President Barack Obama's election campaign, has been quoted as saying he was not in possession of the full facts when he undertook a paid speaking engagement in Azerbaijan.
"The Wall Street Journal" reported on its website that Plouffe intends to give away his speaking fee of approximately $50,000 to groups that advocate democratization.
A close associate of Plouffe was quoted as saying that he only learned that the speaking engagement was at the invitation of a pro-Aliyev organization after he had already embarked for the Caspian Sea state.
RFE/RL's Azerbaijani Service says the organization in question is the Association for Development of Civil Society in Azerbaijan, which acts as a mouthpiece of Aliyev's presidential office. The trip was arranged through a Washington-based lobby group that lists Azerbaijan as a client.
The White House says Plouffe is not representing President Barack Obama or the U.S. administration in any way.
Spokesman Robert Gibbs confirmed Plouffe's statement that he is in Azerbaijan strictly as a private citizen. Gibbs also said that if Obama wanted to make contact with Aliyev in Baku, he'd simply pick up the telephone.
Plouffe delivered his speech to students on February 9 at Gerb (Western) University in the Azerbaijani capital. The meeting was closed to the press, but Plouffe now says he will make available the contents of his speech to opposition groups.
The leader of the opposition Musavat party, Isa Qambar, told RFE/RL's Azerbaijani Service on February 9 that if Plouffe is in Baku to meet with members of the government, then it would be useful for him also to meet opposition and civil groups as well.
Plouffe later conferred with President Aliyev and parliament speaker Oktay Asadov.
His trip to Azerbaijan comes at a politically sensitive moment, as Aliyev is set to hold a referendum on March 18 freeing him from constitutional term limits.
Opposition parties oppose the referendum, which they say will allow Aliyev to remain president for life.
Azerbaijani activists have complained of being intimidated and arrested when asking people to sign a petition against the referendum.
(Video: David Plouffe speaking to RFE/RL after his speech on February 9 at Baku's Gerb University.)