In 'Near Abroad,' A Mix of Hope, Anxiety Ahead Of U.S.-Russia Summit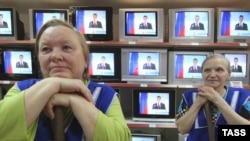 When Washington and Moscow get cozy, the saying goes, Russia's neighbors get nervous.
So when U.S. President Barack Obama signaled his intention to "reset" U.S.-Russian relations, which had sunk to levels not seen since the Cold War, there was palpable anxiety in Georgia and Ukraine.
Those countries will be watching warily as Obama begins his high-profile visit to Moscow on July 6.
"There are some fears, of course, that there might be some kind of trade-off between the United States and Russia," says Tbilisi-based political analyst Ghia Nodia, head of the International Research Institute for the Caucasus. "There may be a deal according to which Russia supports the United States in Afghanistan or elsewhere and the United States will sacrifice its support for Georgia."
Not 'Bargaining Chips'
Georgia, like Ukraine, has sought to move out of Moscow's orbit, and enjoyed overt U.S. encouragement under George W. Bush, whose relationship with Russia grew increasingly antagonistic during his eight years in the White House.
Now, in the face of emerging pragmatism in U.S.-Russia ties, many post-Soviet countries are wondering if their emerging democracies will be sacrificed on the altar of better relations with Russia.
U.S. officials have repeatedly said that Washington does not recognize spheres of influence in the former Soviet space and that Georgia and Ukraine -- both of which aspire to join NATO -- have the right to choose their alliances.
RFE/RL Russian Service correspondent Irina Lagunina talks about what awaits the U.S. president on his arrival in Moscow.
Obama himself appeared to throw down the gauntlet ahead of the summit in an AP interview, dismissing as "outdated" the "old, Cold War approaches to U.S.-Russian relations" favored by Prime Minister Vladimir Putin, who hotly opposes the defection of Russia's post-Soviet neighbors and is seen as the driving force between last year's war in Georgia.
Michael McFaul, the White House National Security Council's senior director for Russian and Eurasian affairs, told reporters on July 1 that the administration has no intention of using Georgia or Ukraine as a bargaining chip with Moscow.
"We're not going to reassure or trade or give anything to the Russians with regard to NATO expansion," McFaul said. "We are not in any way, in the name of the reset, abandoning our very close relationships with these two democracies, Ukraine and Georgia."
U.S. Assurances
Skeptics point out that NATO recently restored full relations with the Kremlin, which had been suspended following Russia's military incursion into Georgia in August, despite the fact that Moscow continues to deploy troops in breakaway Abkhazia and South Ossetia and has barred international monitors from entering the territories.
In a clear effort to ease such fears, U.S. Vice President Joseph Biden is scheduled to visit Kyiv and Tbilisi in late July, right on the heels of Obama's trip to Moscow.
In remarks to reporters on July 1, Georgian opposition politician Irakli Alasania, Tbilisi's former ambassador to the United Nations, called Biden's visit "a clear signal that the United States is not going to change its policy toward these countries, Georgia and Ukraine, and is not going to give up its support for their aspirations to join NATO and Western institutions."
Alasania spoke in Tbilisi after returning from the United States, where he met with high-ranking officials in the State and Defense departments.
RFE/RL Georgian Service Director David Kakabadze talks about expectations among Georgians ahead of the U.S.-Russia summit.
Levan Ramishvili, founder of the Tbilisi-based Liberty Institute think tank, called Biden a "friend of Georgia" and noted that it was the vice president who first put forward the notion of the reset in a speech at a security conference in Munich earlier this year.
Ramishvili added that in the same speech, Biden also made it "clear that U.S. policy supports Georgia's territorial integrity and supports Georgia's right to join any alliance it chooses."
Homegrown Problems
The integration of Georgia and Ukraine into Western institutions has been complicated by political crises in both countries.
Georgia has been plagued by street protests against the government of President Mikheil Saakashvili since April.
And with presidential elections looming in Ukraine in January, the political establishment there has been paralyzed by an ongoing power struggle between President Viktor Yushchenko and Prime Minister Yulia Tymoshenko.
Moreover, while Georgia is largely united in its desire to join NATO, Ukraine remains divided on the issue and dependent on Russia for energy supplies.
Analysts say Ukraine's ongoing political deadlock plays into Russia's hands.
"Until the political crisis ends, until the U.S. and its European allies see that Ukraine is united, until they see that there are people in Kyiv who think alike on security and foreign policy issues, there won't be any clarity in the U.S. position towards Ukraine," says Yevhen Kaminsky of the Kyiv-based Institute for Global Economy and International Relations Institute.
"This is what we need in order for us to see Barack Obama's position on Ukraine," Kaminsky adds. "Everything that is happening in Ukraine today is more conducive to Russian 'great state' ambitions than American democratization goals."
RFE/RL Ukrainian Service Director Irena Chalupa talks about Ukrainians' concerns as they watch the U.S.-Russia summit take shape.
Yuriy Shcherbak, Ukraine's former ambassador to the United States, says he doubts that Obama would allow Russia to "dominate the post-Soviet space" but adds that Ukraine needs to take steps to beef up its own security.
"There may be a postponement of Ukraine's entry into NATO for some three to five years. This is fully possible," Shcherbak says.
"That is why Ukraine must come up with a new security strategy," he adds. "It is absolutely necessary to immediately to strengthen our armed forces. This is extremely important for us as we are currently in this gray, undetermined security zone."
Room For Maneuver?
The lessons of history continue to loom large as the region contemplates its future. Fearful of a Western retreat from Bush-era commitments of support, observers in post-Soviet countries have queried whether the big powers will once again carve the world into spheres of influence -- much as U.S. President Franklin Roosevelt, British Prime Minister Winston Churchill, and Soviet leader Josef Stalin did at the Yalta conference in the waning months of World War II.
Nikolas Gvosdev, a professor of national security studies at the U.S. Naval War College, says that while Georgia and Ukraine's NATO plans may be put on hold indefinitely, this should not be interpreted as ceding a sphere of influence to Russia in the former Soviet space.
"The president doesn't have the freedom that an FDR or a Churchill had in the middle of World War II to be able to do these sweeping kinds of arrangements about geopolitical divisions of influence. I don't think that the president is going in with a sense of doing a lot of trade-offs," Gvosdev says.
"He may at the margins do some things that the Ukrainians and Georgians may not like."
RFE/RL's Georgian and Ukrainian services contributed to this report