U.S. Army Hands Over Last Prison In Iraq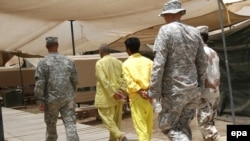 The U.S. Army has handed over the last detention facility under its control to Iraqi authorities.
Camp Cropper, west of Baghdad, was set up shortly after the U.S.-led invasion of Iraq in March 2003 to handle senior members of Saddam Hussein's toppled Ba'athist regime.
Hussein himself was its most famous inmate after his capture in the wake of the invasion.
Among the last of Hussein's inner circle to leave the detention facility was former Deputy Prime Minister Tariq Aziz, who was transferred to Khadimiyah prison in Baghdad on July 13.
Currently Camp Cropper holds about 1,500 prisoners. More than 100,000 prisoners have passed through U.S. custody in Iraq since the 2003 invasion.

WATCH: RFE/RL's Radio Free Iraq filed this video from inside Camp Cropper before the handover to Iraqi officials.
compiled from agency reports