Ukrainian President Calls For More Powers, As Country Marks Independence Day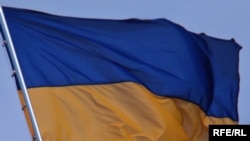 President Viktor Yanukovych has called for the Ukrainian Constitution to be reformed in order to strengthen his powers and enable him to push through potentially painful reforms.
Yanukovych's call came as Ukraine marks the 19th anniversary of its proclamation of independence from the Soviet Union.
Speaking at a ceremony in Independence Square in the capital, Kyiv, Yanukovych told the audience, "I see the renewed Ukraine as a country with a stable political system and I am ready to offer its formula to the public."
He said that much of the reforms could be brought about by a strong president, "who has practical levers of coordination and control over the implementation of key reforms in the country and its strategic policies; it is a competent and politically structured parliament with a strong [majority] coalition and an influential opposition."
Ukraine curbed presidential powers in favor of parliament through constitutional amendments introduced under Yanukovych's predecessor, Viktor Yushchenko.
Yanukovych now says the limits on the power of the presidency produced a crisis of authority. His supporters say lifting the limits would help the president push through reforms such as raising household gas prices.
Kyiv already has undertaken unpopular reforms under pressure from the International Monetary Fund, which last month extended a new $15 billion stand-by arrangement to Ukraine to help stabilize its economy battered by the global financial crisis.
Besides pushing for constitutional changes, Yanukovych today defended his foreign policy, saying the improvement of ties with Russia "contributes" to European integration.
Earlier, in a separate statement marking Independence Day, Yanukovych said that his new economic reform program "is aimed at building an economically independent Ukrainian state."
Since he was elected in February, Yanukovych has moved to repair ties with Moscow that were frayed under the 2005-2010 presidency of pro-Western Yushchenko,
Yanukovych has realigned his country with Russia through sweeping changes including a 25-year extension of Moscow's lease for a Black Sea naval base. In return, Kyiv secured a hefty discount on Russian natural gas.
WATCH: Young Ukrainians stage a flash mob to mark the country's independence from the Soviet Union.

But while such moves are popular in Ukraine's largely-Russian speaking east, the opposition says Yanukovych is putting Kyiv firmly under Moscow's sphere of influence.
According to a new survey carried out by the Kyiv-based Razumkov Center, 45 percent of Ukrainians doubt whether their country is truly independent.
There's also growing concern at what critics are calling a deteriorating climate for press freedom in the country.
The Washington-based organization Freedom House, which measures the degree of liberty in countries around the world, says Ukraine is setting an example for its region in the progress it is making in democratization. But in a July interview with RFE/RL, the organization's director of studies, Christopher Walker, warned that there have been some "growing pressures" on civil society and news media.
'More Developed State'
In his address on August 24, Yanukovych pledged support for judicial reform, the defense of human rights, and a free press: "I support and always will support the development of strong and free media because that is the foundation of democracy. I will not allow the country to turn off the democratic path of reforms for the sake of the selfish interests of any irresponsible politicians."
Andrew Wilson, a senior fellow at the European Council on Foreign Relations, tells RFE/RL's Ukrainian Service that the biggest achievement in Ukraine since 1991 is "survival."
"But I remember [former President] Leonid Kravchuk citing that in 1994. So one would have hoped for something more than mere survival by now. Maintaining relative internal accord, given predictions that the state would break up or the Crimean succession might turn serious," Wilson says.
When compared to other countries of the former Soviet Union, Wilson says that Ukraine is a more developed state.
"Ukraine has certainly avoided the extreme problems of Georgia or even Moldova. So there is still a lot to do. Ukraine should have done more. Given that, on any definition of adulthood, it should have achieved a lot more by now," Wilson says.
In Washington, U.S. Secretary of State Hillary Clinton released a video message congratulating Ukraine, saying that Ukrainians and Americans share democratic values.
"The United States has stood by Ukraine and the people of Ukraine since independence, and we will continue to support you as you work to achieve the full benefits of democracy and all of the blessings that go with it."
Clinton pledged that the United States will continue to work with Ukraine to protect and strengthen Ukrainian democratic institutions, advance civil society, and promote transparent markets to lay the basis for a future of stability and prosperity.
written by Antoine Blua, with reporting from RFE/RL's Ukrainian Service