Afghans Pledge To Vote Despite Escalating Attacks
A string of deadly Taliban attacks in Kabul has left many residents on edge just days before Afghanistan's presidential election on April 5.
For some, the escalating violence has convinced them to stay at home on polling day. For others, the attacks have bolstered their resolve to exercise their democratic right.
The Taliban has threatened to do "everything it can" to disrupt the vote through a campaign of bombings, assassinations, and gun attacks. The militant group has pledged to kill anyone who participates in the election, including voters, observers, and the thousands of provincial council candidates and the nine presidential hopefuls.
In Bagh-e-Ali Mardan, an impoverished neighborhood in Kabul's old town, there was an overwhelming mood of defiance.
Farhad, a 22-year-old butcher's assistant, says he is willing to put his life on the line to vote. "Even if it kills us, we'll vote," Farhad tells me. "We will defy these [Taliban] thugs and show we're stronger than them."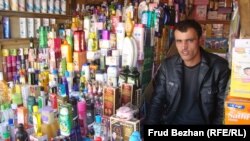 Bashir, a 50-year-old fruit and vegetable seller, says the Taliban can carry out as many attacks as it wants, but it will not break the resolve of the people. "We Afghans are as strong as the mountains," he says. "Taliban can throw everything at us, but we'll still be standing."
Hamid, a shopkeeper, says the violence has only encouraged people to go out and vote. "It's because of attacks that we should vote. If we don't, the Taliban will win and it will always be insecure here."
Of course, not everyone is willing to risk life and limb to cast their ballot.
Jamshed, an unemployed 27-year-old, says turning out on polling day is simply not worth it. "Nothing is more valuable than life, even if it is voting for your country's next president."