Several Killed As Bad Weather Strikes Afghanistan, Central Asia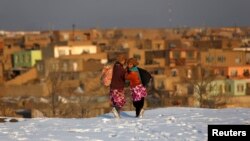 At least 19 people have been killed after heavy snow blanketed parts of Afghanistan and neighboring Central Asian states.
The deputy governor of Afghanistan's northwestern province of Jowzjan, Abdul Rahman Mahmoudi, said on February 5 that heavy snow fell from January 31 to late on February 4 and it has been blamed for the deaths of 14 local residents, including five children.
In Tashkent, the capital of neighboring Uzbekistan, snow caused a plane to slip off a runway on February 5. No one was hurt in the incident.
Another plane in neighboring Tajikistan's southern city of Kulob also skidded off a runway on February 3 due to heavy snow. No one was hurt there either.
All Tajik schools and universities have been closed until February 10.
Meanwhile, in neighboring Kyrgyzstan, avalanches caused by heavy snowfall have killed five people over the past several days.
PHOTO GALLERY: Heavy Snow From The Middle East To Central Asia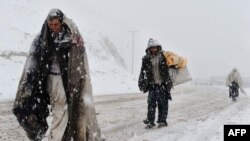 With reporting by dpa, Pajhwok, and RFE/RL's Tajik, Uzbek and Kyrgyz services