In Afghanistan, Worried Mother Of Sextuplets Gets Help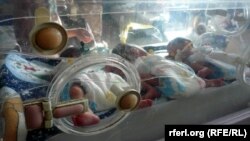 MAZAR-E SHARIF, Afghanistan -- The dismayed mother of six newborn Afghan babies won't be relaxing anytime soon, but she will get some comfort to go with her bundles of joy.
First-time mother Sara Gul expressed joy upon giving birth to sextuplets in the northern Afghan city of Mazar-e Sharif on January 24. But the impoverished 23-year-old was clearly daunted by the prospect of having to care for three girls and three boys.
During an interview at the hospital on the day of her delivery, Gul said she and her husband, Shukrullah, already struggle to make ends meet on his meager income. With six more mouths to feed, she said she was hoping for financial assistance from local authorities.
On January 25, she got some relief.
The administration of the Mazar-e Sharif hospital where she gave birth provided 6,000 afghanis ($120) to Gul, while the governor 's office of Balkh Province promised to provide $1,000 for the family.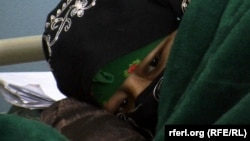 Upon learning that she was pregnant with six children, Gul and her 27-year-old husband made some big life changes.
They moved from their home village to Mazar-e Sharif in hope that Shukrallah could find work.
Gul said the couple's extreme poverty also caused her to consider terminating her pregnancy.
"I wasn't happy with [being pregnant with multiple babies] and I tried to induce a miscarriage, but it didn't work," she said. "I took medicines, I jumped from walls, but nothing happened."
As the due date neared, Gul's fears remained.
"We are very poor. I wasn't sure if there would be doctors on hand when we needed them, and we don't have much to eat," she said.
So far, so good.
Malalai, an obstetrician in her hospital, said that while the sextuplets were born prematurely and are being kept in incubators, they are in good health.
Written by Farangis Najibullah based on reporting by correspondent Zuhra Safi