'Scream Queen' Final Serves Up Loudest Grunters In Women's Tennis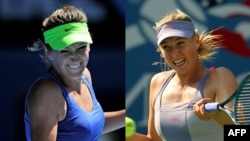 The women's final on January 28 at the Australian Open tennis tournament will pit experienced Russian-born right-hander Maria Sharapova against up-and-coming Victoria Azarenka from Belarus.
And as Sharapova and Azarenka battle for the prestigious Grand Slam title and possibly the world No. 1 ranking, many in the audience will be hearing the game as much as they'll be seeing it.
That's because the 24-year-old Sharapova and her 22-year-old rival are considered two of the loudest grunters on the female tennis circuit.
Their on-court outbursts are so distinctive that some have dubbed the title match the "Scream Queen" final:
Sharapova and Azarenka are both tall, powerful players who are currently fourth (Sharapova) and third (Azarenka) in world rankings, and have split their previous six matches against each other.
A Record 105 Decibels
In 2009, the year that Sharapova defeated Azarenka in this three-hour match at the China Open, she also won for loudness -- clocking in at 105 decibels, compared to Azarenka's 95:
Such decibel levels are comparable to the sound of a large truck or a rock concert heard from the first row.
And the Women's Tennis Association (WTA), the group behind the professional women's tennis tour, admits that some find it "bothersome."
Just days before Sharapova and Azarenka advanced to the final, the WTA admitted it was looking for ways to reduce "excessive grunting," especially for younger players.
Both players have defended their noisy style, saying it lends power to their game.
Azarenka has said the "whoo"-like outbursts she makes with each hit are an "integral" part of her breathing technique. Sharapova, more simply, has said "no one important enough" has ordered her to behave differently.
Tantamount To Cheating?
Grunting has been an issue in women's tennis ever since the 1990s, when Serbian-born Monica Seles earned notoriety for her sharp-toned shrieks on the court.
Tennis legends like Martina Navratilova have argued that distracting grunts and other noises are tantamount to cheating and should be banned outright.
More recently, No. 8-ranked Agnieszka Radwanska of Poland hotly criticized the practice after losing to Azarenka in an Australian Open quarterfinal this week, referring to her grunting rivals as "pretty annoying" and "just too loud."
Tennis umpires can penalize players for "deliberate" attempts to hinder play. But the rule is rarely used to punish on-court grunting.
Grunting is seen as far less pervasive in men's tennis. Meaning the January 29 men's final -- between Spain's Rafael Nadal and Serbia's Novak Djokovic -- is likely to be a far quieter affair.
With agency reports