In Azerbaijan, Young Protesters Take To Streets Despite Police Crackdown
PHOTO GALLERY: Images from today's protests and police crackdown in Baku: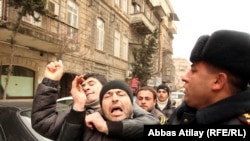 * Correction appended

By RFE/RL
Small groups of Azeri youths staged antigovernment protests on March 11 in the capital, Baku, despite a police crackdown on protest organizers in recent days.
Inspired by popular uprisings in Arab nations, young Azerbaijani activists had campaigned via Facebook to designate the date as "Great People's Day" and stage protests against the country's autocratic leader Ilham Aliyev.
Police in one district said they had detained 10 people in an attempt to thwart an unsanctioned protest, but activists behind the "Great People's Day" protests put the number detained in the "dozens."
In one protest, activists marched from a downtown McDonald's restaurant toward the National Bank building chanting, "Freedom!" and "Resignation!"
They shouted, "Freedom to Eynulla Fatullayev," a reference to an Azerbaijani journalist imprisoned on charges his supporters say are politically motivated.
Protesters also chanted, "Release Bakhtiyar Hajiyev!" "Freedom to Dayanat," and "Freedom to Cabbar," referring to a journalist and two youth activists who have recently been jailed.
Our correspondents in Baku said police were stopping and searching young people in the streets and metro stations since the morning.
WATCH -- Several young activists were detained and driven away in police vehicles:
Turqut Qambar was among those detained by police, the activist's father, Isa Qambar -- the leader of an opposition party, Musavat -- told reporters.
RFE/RL photographer Abbas Atilay was beaten up by police while he was filming police detaining activists.
Atilay said police officials later apologized, saying he was beaten up "by mistake."
"[Policemen] began beating me very aggressively in the face and the stomach," Atilay said. "At that very moment, plainclothes policemen approached me and apologized, saying I was beaten by mistake."
An official from the Interior Ministry was unable to tell RFE/RL how many people were detained but said the ministry would release the information later.
Several youth activists and protest organizers were arrested ahead of the planned demonstrations.
The European Union, the U.S. Embassy in Baku, and Amnesty International had earlier expressed concern over the recent arrests of Azerbaijani activists.
The "Great People's Day" protest was initially planned as a "virtual protest" to express solidarity online. However, it later turned into calls for street demonstrations against Aliyev's regime.
Over 4,100 people used Facebook to confirm their intention to join the protests by this morning.
* The original version of this story did not correctly identify Turqut Qambar as among those detained by police.
written by Farangis Najibullah and Arife Kazimova, based on material from RFE/RL's Azerbaijani Service