Azerbaijani Rally Demands Aliyev's Resignation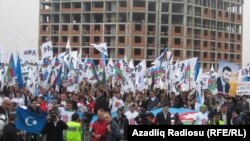 BAKU -- Several thousand supporters of the political opposition in Azerbaijan have staged a rally in Baku to demand freedom for political prisoners and the resignation of President Ilham Aliyev.
Opposition groups at the rally included the Azerbaijan Popular Front Party, Musavat (Equality), and the People's Party.
Members of several nongovernmental organizations and youth groups in Azerbaijan also attended, chanting for Aliyev's resignation and "Eurovision without political prisoners" -- a reference to the Eurovision Song Contest that Azerbaijan is due to host in May.
It was the second sanctioned demonstration in Baku this year after similar protests last year were subjected to a violent government crackdown.
WATCH: Protesters rally in Baku
​