Belarus Activist Freed After Clemency Request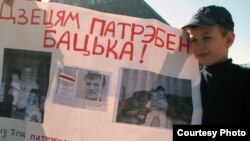 VITSEBSK, Belarus -- Prominent Belarusian opposition activist Syarhey Kavalenka, whose health deteriorated after a lengthy hunger strike earlier this year, has been released from prison.
Relatives told RFE/RL that Kavalenka and his wife arrived in their native city of Vitsebsk overnight.
Kavalenka's mother says her son was freed after he had to ask for clemency.
She said Kavalenka had asked for a pardon under increasing pressure from prison authorities, who put him in solitary confinement and blackmailed him.
Kavalenka, 37, was sentenced in February to 25 months in jail for violating the terms of his parole for a conviction on charges of "illegally displaying the banned Belarusian national flag."
Kavalenka has denied committing the offense.
Officials force-fed him before, during, and after the trial because of his lengthy hunger strike.
PHOTO GALLERY: Syarhey Kavalenka goes home