As Depression Grows In Bosnia, So Does Appetite For Pills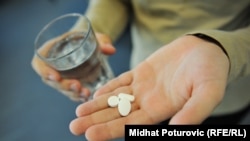 Popping pills has long been considered a rich country's response to treating depression. The United States, for example, last year spent more than $28 billion -- more than $90 per capita -- on antipsychotic and antidepressant drugs.
But pills are no longer the exclusive preserve of the rich. Increasingly, people in poorer countries are turning to pharmaceuticals for relief as well. And in Bosnia-Herzegovina, a country struggling with a painful war legacy and growing economic despair, residents say the problem is growing worse.
"There will be more and more of this. The situation is that bad," one woman says. "It seems to me that everyone is living in their own little world. There's a lack of socializing, a lack of money, a lack of everything. That's the situation in the entire country."
In the Balkans, where personal problems are traditionally hashed out over strong coffee and lively conversation, people mocked Western countries for turning to therapy and pills. "We often say we don't need psychiatrists," a Balkan sociologist once observed. "Here, we still have friends."
But current statistics indicate that Bosnians are now spending as much as $13 million a year for pills to treat a range of mental-health complaints. Per month, that's more than $90 per capita -- more than one-third of the average income.
Ravages Of War
To be certain, Bosnians have plenty to be anxious about. An estimated quarter-million people were killed and another 2.6 million displaced during Bosnia's 1992-95 war, a conflict that also left the country with deep ethnic divisions that still remain today.
As many as one-third of the population is believed to be vulnerable to post-traumatic stress disorder; as many as two-thirds may suffer from depression. Women, many of whom were exposed to sexual violence during the war or are now victims of domestic violence, are said to be particularly prone to mental distress.
Srdjan Puhalo, a psychologist based in Banja Luka, says the brutality of the war, combined with mounting modern pressures, have left many people veering between feelings of helplessness and rage.
"On the one hand, you have an abnormal level of apathy prevailing in this society. On the other hand, you have very dramatic violence, the result of stress that's been building up for more than 20 years," Puhalo says.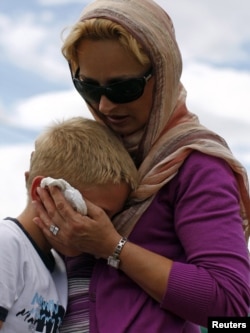 "And so we have situations in which people have an exaggerated reaction to even little things -- gory murders and serious crimes are committed for banal reasons. People can break down easily and react in an uncontrolled way to things."
No Prescription Needed
Further compounding the problems of the past are mounting anxieties over the country's economic instability. Bosnia has struggled to recover from the massive economic setback dealt by the war, and poverty and unemployment are rife.
Nearly half the working-age population is currently without work, and social services have dwindled as well. In short, the country is a mess -- and its citizens are bearing the brunt.
"You take a tranquilizer and it helps you to function," another woman says. "If you have trouble sleeping, you take a pill. You'll sleep well, at least. But it doesn't solve the problem."
Experts say the problem is exacerbated by the fact that drugs like Lexaurin -- the local brand name for bromazepam, a powerful sedative -- are easy to buy without a prescription.
Bosnia, which has no strict regulations on the sale of pharmaceuticals, formally requires a doctor's note to be presented for the purchase of certain drugs. But in reality, says Mirsad Saberdzovic, who heads a pharmacists' association in the Sarajevo region, most people can convince their pharmacists to sell them drugs without a doctor's approval.
"It's illegal, and some pharmacies are to blame for allowing patients to buy drugs," Saberdzovic says. "The law says clearly that you can only provide these drugs with a prescription."
Victims Of The Modern Age
Many people, asked to explain the country's growing bout of depression, point straight to the top. More than a year after a general election, Bosnia remains without a central government, as the country's Muslim, Serbian, and Croatian politicians continue to squabble over the distribution of political posts.
The dispute has left the country functioning on a temporary budget, and has put in peril the delivery of 96 million euros ($130 million) in EU aid. It has also handed leverage to the country's restive Serbian entity, Republika Srpska, which has long sought to distance itself from Bosnia proper, foiling Bosnia's Western integration efforts in the process.
Perhaps prophetically, Nikola Spiric, the man who now heads the country's Council of Ministers, remarked six years ago as a parliament deputy that the "only way to endure our government is to take drugs." People appear to be taking him seriously.
But while many of the country's problems are unique to Bosnia, some observers say the country is also succumbing to 21st-century pressures that can be witnessed the world over.
Izet Pajevic, the president of the Bosnian Psychiatric Association, says people today are living through an era of constant uncertainty and change -- something, that can have a profound impact on personal well-being.
"Modern man has somehow severed his ties with traditional ways of life and traditional thinking patterns. This era is excessively demanding and that often includes changes in attitude, changes in the way people think, changes in principles," Pajevic says.
"It requires a lot of energy and will. There's a kind of existential uncertainty, an unstable values system. So marriage and family relationships are no longer a place where people feel safe and protected."
reported in Bosnia by Marija Arnautovic and written in Prague by Daisy Sindelar