All Quiet In Western Kazakhstan As Locals Rally Behind Oil Workers
AQTAU, Kazakhstan -- Protests have continued into their third day in the western Kazakh city of Aqtau, where locals have rallied in support of striking oil workers in a nearby city.
Protesters in Aqtau, the capital of Manghystau Oblast, demanded the authorities withdraw troops from Zhanaozen, a city 200 kilometers to the east where rioting left at least 14 people dead and dozens injured last week.
"There were about 400 people in Aqtau's Yntymak Square today, and they demand that security troops refrain from using force against protesters in Zhanaozen," Kazis Toguzbaev, a correspondent for RFE/RL's Kazakh Service, reported from the city.
The local newspaper "Lada," however, put the number of protesters at around 80 people, and that the number has fallen in comparison to previous days, mostly due to "subzero temperatures and strong winds" in the costal town.
Toguzbaev estimated that about 100 police officers were deployed in the Aqtau's square, and he said four police buses were also in sight.
Zhanaozen Violence
The deadly riots in Zhanaozen broke out on December 16 after striking oil workers -- many of whom lost their jobs at KazMunaiGaz subsidiary OzenMunaiGaz as a result of the strike that began in May -- openly clashed with police during Independence Day celebrations.
At least 14 people were killed and about 80 wounded in the unrest, many of them shot. The mayor's office, OzenMunaiGaz's headquarters, the local branch of the ruling Nur Otan party, and dozens of other buildings were torched. To quell the unrest, additional security troops and armored vehicles were sent to Zhanaozen and President Nursultan Nazarbaev imposed a curfew on the city until January 5, 2012.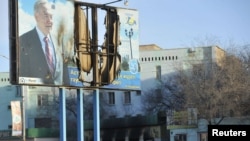 Authorities blamed "hooligans" for starting the mayhem in the city, and the president's office suggested there was "foreign funding" behind the riots. The authorities insist the police only shot into the air and at the ground, and that some people were killed by ricocheting bullets.
Kazakh Emergency Situations Minister Vladimir Bozhko told reporters in Aqtau on December 20 that the situation in Zhanaozen was now calm, and that all shops and markets had reopened.
Bozhko also said a clean-up of the city was under way, and gas and electricity services were running normally.
"Today the Internet and mobile-phone services have been restored. Land-line telephone services, too," Bozhko said. "Two land-line phone stations were temporarily down due to the disruption of electricity; electrical service has been restored."
How Many Really Died?
Local residents, however, complain about the heavy police presence and the disruption of public transport service in Zhanaozen. Others claim police are detaining young men on the street for questioning.
"We're staying indoors," said Aigul Zhalgasbaeva, a bookkeeper from Zhanaozen. "Special buses [from workplaces] come to take men to work. We women stay at home with our kids. Schools are closed. To enter hospitals you need a special permit card."
Guldzhamal Nurgalieva, whose husband was wounded in the neck and shoulder during the riots, questions the media and official accounts of the number of victims.
Nurgalieva said she believed the number of dead is larger than the 14 officially listed by Kazakh prosecutors.
"You can see many families setting traditional tents outside their houses for funeral proceedings, and this is how we know more than 14 died during the unrest," Nurgalieva explained.
Written by Farangis Najibullah, with reports by RFE/RL's Kazakh Service and local media