Cars Circle Central Moscow In Anti-Putin Protest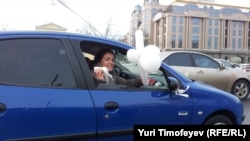 Hundreds of cars have circled central Moscow to demand that Prime Minister Vladimir Putin allow free elections in Russia.
As they travel along the wide Garden Ring, which makes a 16 kilometer loop around the Kremlin, the cars are flying the white ribbons and balloons that have become a symbol of the peaceful anti-Putin protest movement.
RFE/RL's Russian Service reported that the rally was attended by opposition politician Boris Nemtsov and the writer Boris Akunin.
Some activists at the rally were reportedly arrested.
The demonstration is taking place two weeks before the presidential election that Putin is expected to win.
None of the four challengers to him poses a serious threat, but Putin does need to get a majority of the vote to avoid a runoff.
A similar protest in support of Putin drew at least 2,000 cars late on February 18.
Photo Gallery: Moscow Car Protests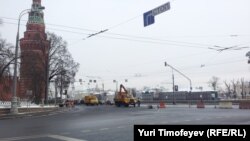 With agency reports