Central Asia: Regionally Dysfunctional In Face Of Common Threats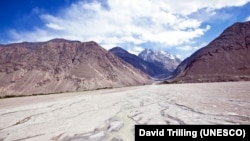 Central Asia faces a myriad of questions and unsavory scenarios as the end of this year and the withdrawal of the bulk of foreign forces from Afghanistan approach.
Recent violence along the Turkmen-Afghan border reminds the Central Asian governments that the clock is ticking.
Faced with a security threat that could destabilize the whole region, what will the Central Asian governments do?
That was the topic of a roundtable discussion hosted by RFE/RL's Turkmen Service, Azatlyk, and moderated by service director Muhammad Tahir.
Participating in the discussion were Dr. Luca Anceschi, professor of Central Asian studies at Glasgow University and author of the book "Turkmenistan's Foreign Policy: Positive Neutrality and the Consolidation of the Turkmen Regime"; Ryskeldi Satke, a Bishkek-based independent security affairs analyst who is a regular contributor to Al-Jazeera, the Jamestown Foundation and other publications and media outlets; and I said a few things also.
As is customary, since Azatlyk hosts these roundtables, the conversation started with Turkmenistan.
And Turkmenistan is the perfect place to start a review of Central Asian responses to threats from Afghanistan, because Turkmenistan has never shown any interest in security or military cooperation with its neighbors.
As Anceschi pointed out, Turkmenistan gained official UN status as a neutral country in December 1995 and ever since has hidden behind this title to avoid entering into military alliances with other countries or multinational security organizations. Satke noted that rather than oppose the Taliban when they were in power in Afghanistan, the Turkmen government, practicing its official neutrality, chose to maintain a cordial, if unofficial, relationship with the new rulers of its southern neighbor.
That was when the late Saparmurat Niyazov was president. His successor, Gurbanguly Berdymukhammedov, seemed intent on continuing this policy.
But six Turkmen border guards and soldiers have been killed since February by people who crossed into Turkmenistan from Afghanistan, and it is becoming clear the policies of Niyazov are unlikely to work now. For one thing, Turkmenistan has been cooperating with the United States as a transit point to Afghanistan in one of the most (intentionally) underpublicized aspects of the Afghan campaign.
However, the official policy of "positive neutrality" remains and puts both Turkmenistan and its Central Asian neighbors in a quandary over what to do if Turkmenistan's recent border-violence problems grow into something more menacing.
Anceschi said even requesting help would be difficult for the Turkmen government because Berdymukhammedov has been repeating his predecessor's assurances to the people that the country's neutral status ensured no one would invade or threaten Turkmenistan's security, so there would never be a need for foreign military help. Simply the request for military aid "could start to erode some of the trust the people have in the regime," Anceschi said.
As to who might answer such a call, the panelists thought the neighbors -- Uzbekistan and Kazakhstan -- were the most likely regional states to react quickly to a Turkmen appeal.
But even that is unclear so long as events in Turkmenistan do not directly affect the security of Uzbekistan or Kazakhstan.
The record of Central Asian cooperation when confronted with a common threat is not good.
In September 1996 when the Taliban captured Kabul, all the Central Asian leaders, with the exception of the Turkmen president, of course, were holding hastily arranged meetings and discussing dire possibilities. For a few brief months, they seemed to be working toward a coordinated policy.
But several things happened that wrecked those efforts at cooperation.
The Tajik civil war ended in 1997. One of the only positive facets of that conflict had been the willingness of Kazakhstan, Kyrgyzstan, and Uzbekistan to contribute troops to a multinational force (that also included Russia) to help guard the Tajik frontier with Afghanistan while Tajik government forces fought their domestic opponents. All those Central Asian "foreign" troops had left Tajikistan by the start of 1999.
When the Islamic Movement of Uzbekistan (IMU) appeared in southern Kyrgyzstan in August 1999, it destroyed Central Asian cooperation.
Both the Uzbek and Kyrgyz governments accused Tajikistan of being lax in allowing those militants to use bases in Tajikistan, a charge the Tajik government vehemently denied. Uzbekistan accused Kyrgyzstan's military of not fighting hard enough.
Tashkent obtained Kyrgyz permission to bomb the militants in the Kyrgyz mountains and did so, but it also bombed areas in the mountains of Tajikistan. Dushanbe protested loudly; Tashkent denied any involvement for days, then finally admitted it and never mentioned it again.
In 2000, when the IMU showed up again, Uzbekistan planted land mines along its borders with Kyrgyzstan and Tajikistan and later refused to even consider removing the mines or giving either of the neighboring governments maps so they could do it themselves. Scores of people in Kyrgyzstan and Tajikistan have been killed or maimed since then.
Anceschi summed up the chances of Central Asian cooperation saying, "There is no possibility that Central Asia as a whole can come up with a collective response."
That being the case, what about outside help?
China came up immediately, since Beijing has poured billions of dollars into developing Turkmenistan's gas fields and the construction of pipelines to bring that gas to China.
Satke reminded that at the CICA (Conference on Interaction and Confidence-Building Measures in Asia) meeting in Shanghai last month, which all the Central Asian leaders attended, China seemed anxious to play a greater role in Central Asian security.
But what sort of role China is willing to play in Central Asia and what sort of role the Central Asians would accept China playing are unclear.
Anceschi pointed out China borders many Asian states with security and stability problems and could be reluctant to set any sort of new precedent. Still, China expects Turkmenistan to fill more than 40 percent of the Middle Kingdom's gas needs by 2020, and Beijing might not remain idle if those supplies were threatened.
That leaves the traditional power of Central Asia since the 19th century: Russia.
Russia seems the obvious choice as a guarantor of Central Asia's stability. When the Taliban arrived at Central Asia's borders and the IMU first appeared, the United States and China did not have much of a presence in Central Asia, and nearly all assumed that if the situation deteriorated rapidly Moscow would step in.
Russia has bases in Tajikistan and a base in Kyrgyzstan. But Anceschi said if Turkmenistan had to ask for Russian help to quell a security problem, it would only arrive in exchange for Turkmen concessions that would likely alter the form of government in Turkmenistan.
Satke also pointed out that when there were widespread ethnic clashes in southern Kyrgyzstan in 2010, Russia did not intervene. So it is unclear what role Russia could play in helping the Central Asian states confront a threat from the south.
The conversation touched on other matters and the panelists went into much greater detail on the points mentioned in text. For those who wish to hear the discussion, the audio of the roundtable is available here:
-- Bruce Pannier
About This Blog
Qishloq Ovozi is a blog by RFE/RL Central Asia specialist Bruce Pannier that aims to look at the events that are shaping Central Asia and its respective countries, connect some of the dots to shed light on why those processes are occurring, and identify the agents of change. Content will draw on the extensive knowledge and contacts of RFE/RL's Central Asian services but also allow scholars in the West, particularly younger scholars who will be tomorrow's experts on the region, opportunities to share their views on the evolving situation at this Eurasian crossroad. The name means "Village Voice" in Uzbek. But don't be fooled, Qishloq Ovozi is about all of Central Asia.
Latest Podcasts