Clinton Tells OSCE That Ex-Soviet Republics Need Democratic Reforms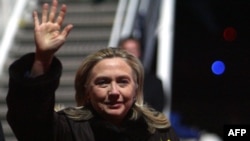 U.S. Secretary of State Hillary Clinton has pushed for greater democratic reforms and respect for human rights in former Soviet republics -- criticizing Russia for a parliamentary election she says was rigged.
Speaking in Vilnius at the start of a two-day ministerial meeting of the Organization for Security and Cooperation in Europe (OSCE), Clinton said Russia needs to act on recommendations made by OSCE election monitors after Prime Minister Vladimir Putin's United Russia party won the most parliamentary seats in a poll on December 4:
"As we have seen in many places and most recently in the Duma elections in Russia, elections that are neither free nor fair [undermine the people's confidence]," she said. "We have serious concerns about the conduct of those elections. Independent political parties such as Parnas were denied the right to register and the preliminary report by the OSCE cites election-day attempts to stuff ballot boxes, manipulate voter lists, and other troubling practices."
Clinton's comments marked the second time in two days she has raised serious concerns about the State Duma elections. Russian Foreign Minister Sergei Lavrov addressed the OSCE ministers after Clinton's remarks but offered no immediate reaction to her criticisms.
Human Rights Challenges
Highlighting democratic shortcomings and rights abuses in other former Soviet republics, Clinton announced to the OSCE ministers from 56 countries that she will meet later on December 5 in Vilnius with Belarusian activists to discuss abuses in their country:
"We must never lose sight of the truth at the core of our comprehensive security concept," she said. "Respect for human rights and human security is essential to the progress and security of all countries here in the OSCE region and across the globe. That is why after I leave the plenary hall today [December 5], I will meet with civil society representatives from Belarus and with civil society leaders from across the region who took part in the parallel conference. And they have called attention to these human rights challenges and are discussing ways they can be addressed."
A year ago, the government of Belarusian President Alyaksandr Lukashenka carried out a sweeping crackdown against opposition leaders and their supporters after protests in Minsk against lopsided election results that favored Lukashenka.
Clinton today called the attention to specific rights abuses in Belarus, including the continued detention of candidates who had opposed Lukashenka in the country's 2010 presidential election and to the jailing late last month of a prominent rights activist:
"In Belarus, less than 40 kilometers away from here, human rights defenders face unremitting persecution," she said. "People like Ales Byalyatski, sentenced to four and half years in prison for tax evasion, but whose real crime in the eyes of the state was helping victims of state repression. Former presidential candidates from the democratic opposition, Andrey Sannikau and Mikalay Statkevich, [are] still in prison a year after the government crackdown along with other political prisoners."
Clinton also named Ukraine as a country that appears to be backtracking on democracy -- questioning whether there were political motivations behind the recent trial and conviction of former Prime Minister Yulia Tymoshenko, a rival of President Viktor Yanukovych:
"We see setbacks for democratic institutions, the rule of law, and electoral processes," she said. "We witnessed prosecutions such as that of Yulia Tymoshenko in Ukraine, which raised serious questions about political motivations."
Concern For Bloggers
Clinton also signaled the need to promote human rights and foster democratic reforms in the former Soviet republics of Central Asia:
"Even as the United States seeks cooperation with governments in the Central Asian region on Afghanistan, trade, energy, and other matters, we will continue to encourage our Central Asian partners -- both governments and civil society -- to pursue democratic reforms and better respect for fundamental human rights," she said.
Clinton also issued a new warning to the Islamist winners of elections in Egypt to respect human and women's rights and adhere to democratic rules.
She told the OSCE gathering that gains by Islamist parties in Egypt's recent parliamentary elections must not set back that country's push toward democracy after the fall of President Hosni Mubarak's regime earlier this year.
Meanwhile, the United States, the Netherlands, Sweden, Canada and other countries are pushing for the OSCE to adopt a document supporting the fundamental freedoms of journalists in the digital age.
U.S. state department officials say there is particular concern that bloggers and other journalists using electronic media are being targeted in all of the countries of Central Asia, Belarus, Russia, and Turkey.
with agency reports