Creator Of Czech Krtek Cartoon Character Dies
Zdenek Miler, the creator of the Czech cartoon character Krtek (the Mole), which entertained children around the world for more than half a century, has died at the age of 90.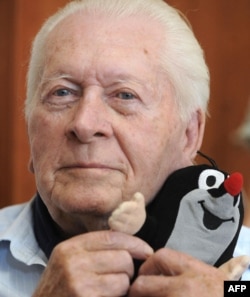 Miler, an illustrator and director of animated films, created his first movie based on Krtek ("How the Mole Got His Trousers") in 1957. It achieved popularity far beyond the borders of then-communist Czechoslovakia.
The films are mostly peaceful stories about the main character, a black-haired, big-eyed mole, and his animal friends.
The films are still popular in more than 80 countries, from Europe to Japan.
compiled from agency reports