Police Use Tear Gas In Cairo Clashes
Egyptian police have used tear gas on protesters marching toward the Interior Ministry in Cairo after the worst football violence in the country's history.
Witnesses say thousands of demonstrators chanting slogans against the ruling military council filled the streets around the Interior Ministry on February 2.
Riot police blocked the road and fired tear gas to disperse the protesters who were hurling stones at police.
It was not immediately clear whether anyone was wounded in the clashes.
On February 1, rioting erupted between fans of rival football teams in the Mediterranean city of Port Said.
The violence left 74 people dead and more than 1,000 injured.
Protesters in Cairo on February 2 were blaming security forces for failing to prevent the violence.
The governor of Port Said has resigned, while two senior police officials were suspended and detained.
Prime Minister Kamal al-Ganzuri said that football association chief Samir Zaher had been sacked and his management board dissolved in the wake of the disaster, the world's deadliest football incident since 84 people died in a stampede in Guatemala City in 1996.
Ganzuri also said the governor and security chief in the coastal city of Port Said, where the clashes took place, are leaving their posts.
The violence on the night of February 1 took place following an Egyptian league match between the Port Said team Al-Masry and Cairo's Al-Ahly.
Fans were crushed to death or fatally stabbed after crowds stormed the pitch following Al-Ahly's loss to the local team.
Interior Minister Muhamed Ibrahim said 47 people had been arrested already and the search for suspects continued.
Widespread Anger At Authorities
Many Egyptians have staged protests to express their anger at what is seen as the authorities' failure to prevent the violence.
Riot police were stationed at the Port Said stadium but were unable to quell the violence. The television network CNN cites eyewitnesses as saying police officers stood by as the clashes escalated.
Field Marshal Hussein Tantawi, who heads Egypt's ruling military council, expressed sorrow over the deadly events and has demanded a thorough investigation.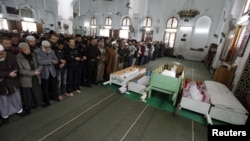 "I gave my orders to begin an immediate investigation," Tantawi said. "The prosecutor-general will now investigate this sad situation that aggrieves the Egyptian people."
Some politicians have accused Egypt's military leaders of allowing, or even encouraging, the brawl.
The Muslim Brotherhood, which dominates the Egyptian parliament, said an "invisible" hand was behind the tragedy.
Nearly a year after pro-democracy protests led to the ouster of longtime Egyptian leader Hosni Mubarak, critics continue to accuse the army of sowing public unrest to discourage a transition to civilian rule.
European Union foreign policy chief Catherine Ashton has called for an independent outside investigation into the disaster.
Egypt's ruling military council has declared three days of mourning.
Sepp Blatter, the head of the world football governing body FIFA, called the bloodshed a "black day" for football.
Compiled from agency reports