Egyptians Vote In First Election Since Ouster Of Mubarak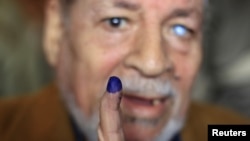 Egyptian voters have been lining up to take part in elections for the lower house of parliament, the first big test of Egypt's political transition since the ouster of former President Hosni Mubarak in February.
At stake is control of a new legislature that will be tasked with setting up a committee to draft a new constitution before a presidential election by the end of June 2012.
Voting in the first round, which includes districts in Cairo and Alexandria, continues through November 29. The drawn-out voting process for parliament's lower chamber will include two more rounds of voting that last through January 11, 2012. After that, there will be three more rounds of voting, through March, for the upper chamber.
In the nine months since a popular revolt ended Mubarak's 30-year rule, the revolutionary euphoria of many Egyptians appears to have soured into distrust of the generals who replaced Mubarak.
'I Beg Them To Vote'
More than 40 people died last week when security forces clashed with protesters, who say political change has faltered because the ruling military council is more focused on preserving its power and privilege than fostering democratic transformation.
But Field Marshal Hussein Tantawi, the head of Egypt's ruling military council, says all political groups need to be represented in the new parliament.
"I would like to address the great Egyptian people, those who can vote," Tantawi said. "I beg them to go and vote because we want the parliament to be balanced and we want all groups to be represented."
Under Mubarak, Egypt's elections routinely were rigged and his National Democratic Party repeatedly claimed strong majorities in parliament. But many new political parties have been set up since Mubarak's resignation.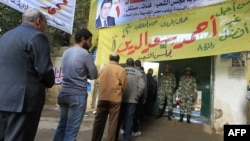 Hurreya Ibrahim al-Sawwaf, a voter from Cairo, says he sees a clear difference between today's ballot and previous elections in Egypt.
"These elections, honestly, people are coming to them in force," he said. "And as you see, they've been here since 7 a.m. But before, in the last elections, the only people who would go were those who had election cards. And, of course, mainly those who belonged to the previous regime. But for those who didn't have election cards, there was no way they could get in, and there were thugs standing at the door to kick them out."
'My Vote Has Value'
At least 1,000 people were lining up outside one polling station in the central Cairo district of Zamalek when voting started at 8 a.m. The line stretched around the block, where posters of candidates and political parties decorated the street.
Magdi, a female voter from Cario, says she also sees a stark contrast between today's vote and earlier elections.
"I'm here this time because I feel like my vote has value. Before this, our vote wasn't valued at all," she said. "For that reason, one wants to now do something for their country, so that you feel you've done something to move it toward real democracy."
Egyptian presidential candidate Amr Moussa, who also served as secretary-general of the Arab League and as Egyptian foreign minister, told reporters in Cairo that all of the elections -- including the presidential vote by the end of June -- would start a "new era of government in Egypt." He add that this would result in "democracy in action, not in theory, but action."
Opinion researchers say a high turnout among Egypt's 50 million eligible voters could bring some surprises, revealing whether a silent majority favors stability under military rule rather than the radical overhaul being demanded by the young protesters who overthrew Mubarak.
Shadi Hamid, research director at the Doha Brookings Center, says a low turnout would reveal widespread disaffection among Egyptians, suggesting most Egyptians don't think real change is possible through the electoral process.
Abdel Moez Ibrahim, head of Egypt's High Judicial Elections Commission, told reporters early in the afternoon of November 28 that turnout so far had been higher than expected and that there had been no security problems.
But some delays were also reported at a number of Cairo and Alexandria polling stations where ballot papers had not arrived.
In Alexandria, demonstrator Khaled Shara expressed cynicism but still said it was important to vote.
"It is impossible for the upcoming elections to represent the revolution or the revolutionary youth. The elections are a joke," he said. "I don't know how they're going to secure the elections if they're not even able to secure us or the security directorate.
"But nonetheless, every person's vote is their right in these elections. You have to go vote because it is your right to vote. If you give up your right then you're not allowed to complain later."
Muslim Brotherhood Stands Back
Another demonstrator in Alexandria, Ahmed Talaat, said he would intentionally invalidate his vote as a form of protest against rule by Egypt's military council.
"I personally will not take part in the elections because I am boycotting them for personal reasons, concerning my own dignity," Talaat said. "If anyone wishes to join me, that will be fine. But I am going to go to the polling station and render my vote invalid. I will write on the election paper: 'Down with military rule' and place it in the ballot box."
The Muslim Brotherhood and other Islamist parties have stood aloof from demonstrators who have been challenging military rule since last week.
They have appeared unwilling to let anything obstruct elections that could open a route to political power that had been beyond their reach under the Mubarak regime.
Other Islamists who have broken away from the Muslim Brotherhood told RFE/RL that they also think it is important for every eligible voter to cast a ballot.
"I totally respect people who are calling for boycotting, but I don't think it's the right thing to do," said Ali El-Bahnsawy, media adviser for the reformist Islamist presidential candidate Abol Fotouh.
"Hundreds of people sacrificed their lives during the revolution, even during the past few days, for us to go and vote freely -- for us to choose who we think represents us most. And I think it's kind of paying back for them -- to go and do what they died for, which is to choose freely and live in what we can call democracy, because what we had before was not democracy."
It was not immediately clear whether the Muslim Brotherhood's disciplined organization would enable its newly formed Freedom and Justice Party to triumph over lesser-known parties and individuals, or how much support reformist Islamist candidates would be able to generate in this week's parliamentary poll.
with agency reports