Election Explainer: Russia's Presidential Vote
Russia's March 4 presidential election is expected to sweep Vladimir Putin back into the Kremlin for another six-year term after a stint as prime minister to avoid a constitutional limit on consecutive terms. The vote, however, takes place against a backdrop of mounting public protests sparked by alleged mass fraud in December's parliamentary elections.
Who are the candidates?
• Vladimir Putin, the country's prime minister and former president. He is expected to win the election in a landslide despite his declining popularity. He has already said he will name his protege, President Dmitry Medvedev, as prime minister if he returns to the presidency. The announced job switch -- and the suggestion at a party congress in August that he'd hatched the plan at least four years ago -- has angered many Russians, who see it as a show of contempt for democracy.
• Gennady Zyuganov, the head of the Communist Party and Putin's main rival for the presidency. This is the fourth time he has run for president since the Soviet collapse. He has placed second on each occasion.

• Vladimir Zhirinovsky, the leader of the Liberal Democratic Party of Russia (LDPR). Russia's most scandalous politician for more than 20 years, he is a die-hard nationalist famous for his provocative tirades against the West. Despite his rhetoric, he is widely viewed as loyal to the Kremlin.
• Sergei Mironov, the head of A Just Russia party. Formerly a faithful ally of Putin, he founded A Just Russia as a nominal opposition party in 2006. He served as speaker of the Federation Council, Russia's upper house of parliament, for almost a decade until the ruling United Russia party ousted him in 2011. Although Mironov ran against Putin in the 2004 presidential election -- and came in last -- his party is seen as controlled by the Kremlin.
• Mikhail Prokhorov, the election's only independent candidate and a new face in Russian politics. At 46, he is the youngest candidate. He is also the wealthiest -- "Forbes" magazine rates him as Russia's third-richest man with an estimated $18 billion in assets. Prokhorov has a reputation for hard partying and made headlines in 2007 when French police detained him on suspicion of hiring prostitutes for guests at the Courchevel ski resort. His program -- which proposes political reform, a professional army, and closer ties with the European Union -- targets mostly liberal, middle-class urban voters. Detractors claim his candidacy is a Kremlin project intended to blunt the opposition and lend legitimacy to the election.
What do the polls say?
Opinion polls all predict a comfortable victory for Putin, who himself has voiced confidence that he would easily reclaim Russia's top job.
The main question is whether Putin will be able to avoid a runoff, which would set a precedent and dent his authority. He needs more than 50 percent of the ballots to win in the first round.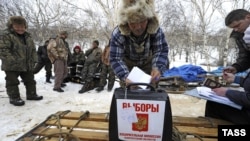 The Public Opinion Research Center (VTsIOM) forecast that Putin would win 58.6 percent of the vote, followed by Zyuganov with 14.8 percent. VTsIOM, which has accurately predicted previous election results, gave Zhirinovsky 9.4 percent, Prokhorov 8.7 percent, and Mironov 7.7 percent of the vote.
Another poll, conducted by the independent Levada Center in February, suggested Putin could receive up to 66 percent of ballots in the first round. According to that survey, Zyuganov will come second with some 15 percent, followed by Zhirinovsky with 8 percent, Prokhorov with 6 percent, and Mironov with 5 percent.
Who will monitor the vote?
Some 700 international observers will be looking out for possible electoral violations on March 4.
The bulk of international observers are mandated by the Commonwealth of Independent States (CIS), the Organization for Cooperation and Security in Europe (OSCE), and the Parliamentary Assembly of the Council of Europe (PACE).
Domestically, election watchdogs will be present at polling stations as well as observing missions sent by the five candidates.
In an unprecedented grassroots drive, tens of thousands of Russians outraged by alleged rampant violations in December's parliamentary vote have signed up as volunteer monitors.
Can a repeat of the mass postelection protests in December be expected?
Public protests will definitely take place, although much will depend on the scale of the perceived electoral fraud. The protests held following the December parliamentary elections were the largest antigovernment rallies in Russia since the fall of the Soviet Union.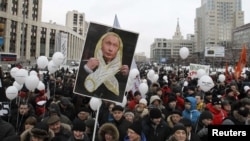 Prominent opposition figures like anticorruption blogger Aleksei Navalny have called for an escalation of protests, and an opposition group in Moscow attempted (unsuccessfully) to distribute tents ahead of possible long-term sit-ins.
After protracted negotiations, Moscow authorities this week gave the green light for a sizable opposition rally at a central Moscow square on March 5.
-- Claire Bigg