Scores Killed In Wave Of Baghdad Bombings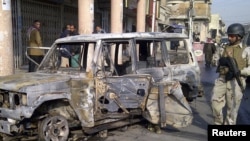 A wave of attacks has killed scores of people across the Iraqi capital in seemingly coordinated attacks that sent ambulances scrambling to scenes of carnage.
Health Ministry spokesman Ziad Tariq said at least 63 people had been killed in the bombings and more than 185 wounded.
The attacks come amid a developing crisis between Iraq's Shi'ite and Sunni political factions just days after the last U.S. troops left Iraq.
It was not immediately clear who was behind the morning rush-hour attacks, but most bombings targeted Shi'ite neighborhoods.
WATCH: Footage of the aftermath of today's bomb attacks in Baghdad:
Iraq's power-sharing government has been in turmoil since an arrest warrant was issued this week for Sunni Vice President Tariq al-Hashimi on terrorism charges.
Shi'ite Prime Minister Nuri al-Maliki demanded on December 21 that Kurdish authorities hand over Hashimi, who is holed up in their northern autonomous region.
"We are asking [our] brothers in the Kurdish regional government to shoulder their responsibility and hand the suspect over to the judiciary," he said. "Not handing him over or allowing him to flee could create problems. We do not want the Kurdish regional government to become a facilitator for someone wanted by the judiciary. [P]oliticizing this issue is unacceptable."
Fragile Coalition Under Threat
Hashimi denies the charges and the Sunni-backed Al-Iraqiyah bloc he belongs to is boycotting the parliament in protest.
Maliki has also threatened to end the fragile coalition by replacing Al-Iraqiyah's nine cabinet members.
Today's violence was the worst since August 15, when 74 people were killed and more than 200 wounded in a series of attacks that struck 17 Iraqi cities. Violence in the country is down from its peak in 2006 and 2007 but attacks are still common.
The fear now is that today's attacks, which have occurred amid a rapidly unraveling political situation and the withdrawal of U.S. military support, could signal a return to that sectarian strife.
with agency reports