Family Of Naxcivan Man Found Dead In Azerbaijani Exclave Claim Torture
The family of an alleged spy in Naxcivan who was found dead earlier this year has presented RFE/RL's Azerbaijani Service with a video that relatives say shows signs of torture on his body.
Turac Zeynalov, a 31-year-old airport technician from the Azerbaijani exclave, was found dead at Naxcivan's Ministry for National Security in late August after being charged with spying for Iran.
His father and wife presented RFE/RL's Baku bureau with the video on November 30.
The footage shows a body bearing wounds on the legs and neck; it does not show the face.
Zeynalov's family said it was shot by family members after the body of their relative was returned by the authorities.
Zeynalov's father, Shuriyye Zeynalov, intimated that his son was barely walking when they met at the Naxcivan National Security Ministry shortly before his death.
'Teaching Him A Lesson'
"My son was summoned to the Naxcivan National Security Ministry on the evening of August 24," he said. "The following day they summoned me and my daughter-in-law on August 25. I met my son and asked him to confess if he had any guilt. But he said he had no guilt. Then I asked a ministry interrogator called Parviz why they had beaten my son? He had wounds in neck and legs."
Turac Zeynalov's widow, Gulnar Zeynalova, quoted officials at the ministry as saying that they had beaten her husband "to teach him a lesson."
"His skull was broken," she said. "There were cuts in Turac's throat. When asked about this, we were told he had a tumor in throat and they had taken it out. Actually, they hung him, strangled him, and then they wanted to cover up the signs. His body contained bruises. They tortured him with electricity."
Family members said they were shown Turac Zeynalov's dead body on August 28, four days after he had been summoned to the ministry.
They said their complaints to Naxcivan's state bodies have yielded no results and that they had come to Baku to appeal to central law-enforcement agencies. They also said they were ready to submit the body for reexamination by experts in the capital.
The family is also calling on authorities to lift the charges against Turac Zeynalov. Relatives said one of Zeynalov's colleagues had been jailed on similar charges.
Threats And Intimidation
However, the National Security Ministry in Baku told RFE/RL on December 1 that "the Zeynalovs had better appeal to the Naxcivan Ministry of National Security."
In an August statement, the Naxcivan National Security Ministry said Turac Zeynalov had been suffering from skin cancer.
Zeynalova said her husband never had cancer.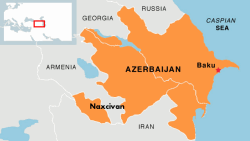 The Zeynalov family also said law-enforcement authorities were refusing to address their concerns about their security.
Shuriyye Zaynalov claims the family was forced to write a statement saying they had no complaints about the death.
"I wrote that I forgive my son's death for the sake of my state," he said. "They forced us to write this. They were threatening us. They didn't allow people to come to mourning ceremonies. They prohibited journalists from covering the death."
RFE/RL correspondent Yafez Hasanov traveled to Naxcivan on August 30 to interview members of Zeynalov's family, but was deported one day later through Iran.
Gulnar Zeynalova told RFE/RL on December 1 that her brother-in-law (Turac's brother) had received a threatening phone call the previous night from a department head named Ilqar from the Naxcivan Ministry of National Security.
According to Zeynalova, the official said the family "would be punished before the law for speaking to the media and presenting the video."
Azerbaijan's Autonomous Republic of Naxcivan is bordered by Iran to the west and Armenia to the east.
Based on reporting by RFE/RL's Azerbaijani Service